Cross Out Cancer
Presented by Serpentini Auto Group
July 26, 2022

University Hospitals is proud to host Cross Out Cancer, Supper Club on the Shore presented by Serpentini Auto Group on Tuesday, July 26 at Shoreby Club. Attendees will enjoy a stunning sunset with dinner and cocktails on the shore of Lake Erie, followed by an inspiring presentation, dinner and live entertainment from Broadway veteran and Cleveland native Betsy Werbel and Cleveland's beloved and accomplished musician Mike Petrone.
Betsy Werbel and
Mike Petrone
Betsy Werbel entertained thousands of Broadway theatergoers for nine years in Wicked and seven years in Les Misérables. She also performed in both company national tours. Today, Betsy works with Broadway Plus to help onboard new artists and create custom experiences for theater enthusiasts.
For 29 years, Cleveland's piano man Mike Petrone has been entertaining nightly at Johnny's Downtown. His recent highly acclaimed film Caesar the Musical has earned more than a dozen awards from film festivals around the world. Mike, a Cleveland arts treasure, is the former music director for Cleveland Play House.
Inspired by the cancer journey of Mary Ann Cross, funds raised from Cross Out Cancer, Supper Club on the Shore will advance immunotherapy research and program development for cancer and blood disorder patients at Angie Fowler Adolescent & Young Adult Cancer Institute at UH Rainbow Babies & Children's and the Wesley Center for Immunotherapy at UH Seidman Cancer Center through the Mary Ann Cross Fund.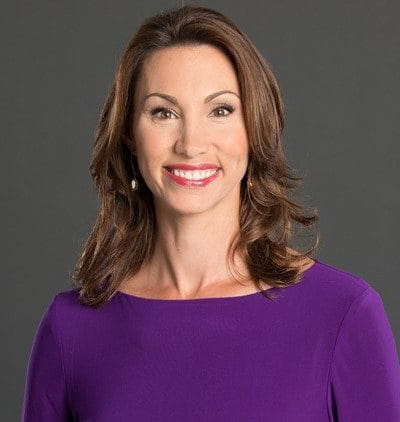 Betsy Kling
Honorary Chairs: Char and Chuck Fowler
Event Co-Chairs: Linda Grdina-Masten and Geoff Masten, Ryan R. Cross
Celebrity Host and Event Emcee: Betsy Kling, Chief Meteorologist and 5 p.m. Anchor at WKYC TV-3
Please visit our Facebook page for the latest updates. For more information and to make your reservation, please contact Sharon Klonowski at 216-215-1423 or Sharon.Klonowski@UHhospitals.org.
---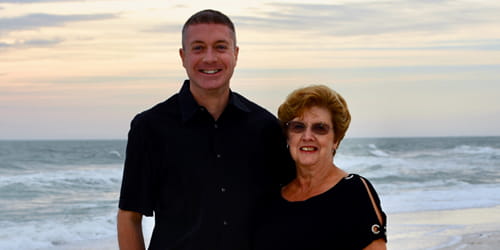 Mother and Son
Ryan Cross explains, "My mother would be thrilled that University Hospitals is at the forefront of immunotherapy care and research and that her memory is associated with this important work through Cross Out Cancer."
Cross Out Cancer is inspired by the cancer journey of Mary Ann Cross. Thanks to excellent clinical care and innovative research at UH Seidman Cancer Center and the Case Comprehensive Cancer Center, Mary Ann Cross successfully battled Chronic Lymphocytic Leukemia (CLL) for 23 years. She appreciated that living in Cleveland afforded her access to the some of the most advanced cancer care available in the world. Immunotherapy has the promise of new cures for many forms of cancer, including CLL.
---
University Hospitals places the highest priority on the health and safety of our guests. We respectfully ask that attendees be fully vaccinated (two doses plus booster(s) according to CDC recommendations) against COVID-19 or have received a negative COVID-19 test within 24 hours of attending the event. Guests who are feeling unwell are asked to stay home. Everyone is encouraged to wear a mask during the event except when eating or drinking.