UH Ahuja Medical Center Holds Ceremonial Groundbreaking for Phase 2 Expansion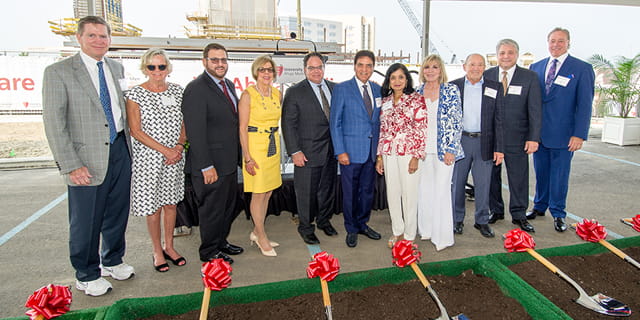 From left: Sandy and Sally Cutler; Steve and Loree Potash; Cliff A. Megerian, MD, FACS; Monte and Usha Ahuja; Grace and Michael Drusinsky; Alan Papa; and Irwin Haber at the July 20 groundbreaking for UH Ahuja Phase 2
UH Ahuja Medical Center celebrated its Phase 2 expansion project with a ceremonial groundbreaking on July 20, 2021. UH Ahuja Phase 2 will officially open in 2023; the $236.1 million project is expected to bring hundreds of new jobs to the community.
Speaking at the event, Cliff A. Megerian, MD, FACS, CEO, University Hospitals, recognized the visionary gift that launched the medical center. "This building bears tribute to the immense generosity of Monte Ahuja, his wife, Usha, and the Ahuja family. It was their gift that laid the groundwork upon which we stand today," he said. "I remember very clearly when we broke ground on Ahuja Phase 1; Monte said, 'Today is a momentous occasion, but I will know this was truly successful when we put the second shovel in the ground.' Today, we do just that."
"As an anchor health care institution on Cleveland's east side, we look forward to evolving UH Ahuja to fit the needs of our patients by offering new and expanded services to the community," said Alan Papa, FACHE, Chief Operating Officer, UH East Market. "We are not only expanding services that are outgrowing our original configuration, we are designing new buildings from the ground up to allow our caregivers to efficiently provide quality health care and enhance patient experience."
The 216,000 sq. ft., three-story hospital pavilion addition and the 78,000 sq. ft. Drusinsky Family Sports Medicine Complex will expand the medical center's footprint by more than 68 percent. The buildings are being designed and developed by HKS Inc. Architects; Sodexo construction management; and Gilbane Building Company, all who served in similar roles in the design and development of the original hospital that opened in 2011. Additional parking and signage will be added to the campus so patients can easily navigate to their current appointments.
Paving the Way for Innovative Care
UH Ahuja Phase 2 paves the way for a number of new health and wellness initiatives, including:
Women & Newborn: A family-focused home for expectant mothers and newborns, the Steve and Loree Potash Women & Newborn Center will include maternal-fetal health services, labor and delivery, a neonatal intensive care unit and family gathering spaces. Patients will have access to UH Rainbow Babies & Children's Hospital and UH MacDonald Women's Hospital specialists. It is estimated that the Potash Women & Newborn Center at UH Ahuja will deliver approximately 2,400 babies annually.
Breast Health: Empowering patients through comprehensive care, the Breast Health Center will deliver the full spectrum of services, from preventive and wellness care to breast cancer treatment.
Sports Medicine: Delivering unmatched care for every athlete, the new, world-class Drusinsky Family Sports Medicine Complex will feature a sports performance center, outpatient rehabilitation space, a sports walk-in clinic and dedicated high-tech imaging. In its first year, the complex expects to serve more than 1,350 sports performance patients.
Men's Health: Motivating men to prioritize their health through prevention and wellness care, the innovative Cutler Center for Men will deliver a full range of coordinated services, ranging from preventive to specialty care.
Emergency and Short-Stay: Delivering expert care in the moments you need it most, the UH Ahuja Emergency Department will be expanded and add Level II trauma care to accommodate increases in Emergency Room visits. In addition, a new 23 bed Short-Stay Unit will provide dedicated observation services.
Service Expansion: Eight operating rooms will be added, increasing OR capacity by 80 percent. With added surgical, endoscopic, imaging and dialytic services, Phase 2 will promote same-day care, allowing patients to recover from the comfort and safety of home.
For more than ten years, UH has prioritized utilizing a diverse range of suppliers for construction projects, and UH Ahuja Phase 2 continues these efforts. The expansion is currently exceeding project goals for minority participation, local workforce utilization and female business enterprise engagement.
View an animated video that showcases all phases of construction, a 3D tour and an evening flyby.
If you would like more information on how you can support the expansion at UH Ahuja Medical Center, please contact David Schrader at David.Schrader@UHhospitals.org.