Potash Family Inspired to Support Family-Focused Women & Newborn Center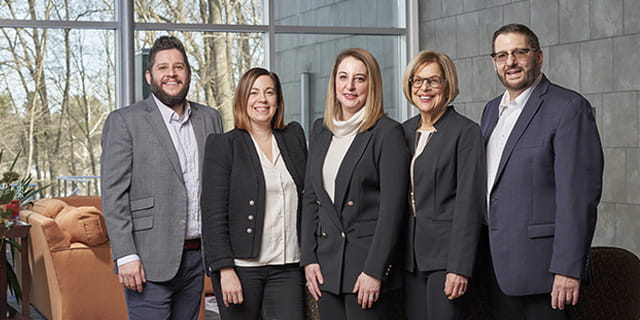 This week, UH announced a $7.5 million gift from Steve and Loree Potash to support the expansion of UH Ahuja Medical Center. The gift will establish the family-focused Steve and Loree Potash Women & Newborn Center, bringing the trusted and collaborative care of UH Rainbow Babies & Children's and UH MacDonald Women's hospitals to the UH Ahuja campus.
"Loree and I are inspired by so many great public servants in NE Ohio and their impact on the quality of life for our community," said Steve, an active member of the UH Board of Directors and the UH Development Committee. "As we learned about the plans to develop a new center dedicated to the care of women and newborns at UH Ahuja, we embraced the opportunity to support the mission. It's an extraordinary honor for us to help deliver new service to families right here in our community."
Rooted in the values of compassion, education, innovation and service, the UH mission resonates deeply with the Potash family. Steve's mother, Helen, arrived in Cleveland as a war orphan in 1947 and relied on the kindness of others through the foster care system. "She lost her family and witnessed great cruelties during the Holocaust, but also experienced great compassion," shared Steve. "She taught me to see the good in people and to help others whenever I can."
Both raised to appreciate education, Steve and Loree represent the first generation in their families to go to college. "We both benefited from our public schools, public libraries, and local university that provided us the education and resources that contributed to our success," said Loree. "We're grateful that we've been able to provide for ourselves and our family and recognize that we now have an opportunity to serve others. It's our responsibility to support the agencies and community institutions in our hometown that are here for the well-being of all."
Designed to exceed the highest standards for quality, expert care while meeting the unique needs and delivery preferences of patients and families, the Potash Women & Newborn Center will accommodate a variety of birth plans and will feature an on-site surgical suite and neonatal intensive care unit. It is estimated that the center will deliver approximately 2,400 babies annually.
Steve and Loree's gift will also launch an innovative literacy program, setting children on a path to discovery and learning from their first days. "We envision, one day, every new family will leave UH with a collection of books, parenting guides and baby's first library card for the local public library," said Steve who is President and CEO of OverDrive, a company he founded in 1986 that is now the world's leading service for eBooks, audiobooks, and digital media to schools and libraries.
"We have witnessed the benefits that early access to books and reading has on children," added Loree, who worked as an academic librarian, practiced law, and held multiple positions at OverDrive before retiring. Today, the couple's three children – Erica Lazzaro, Karen Estrovich and Brian Potash – are all active leaders in the business. "We hope to inspire new parents to read to their children and take advantage of all the free resources of their local public library."