Michael and Grace Drusinsky Support UH Sports Medicine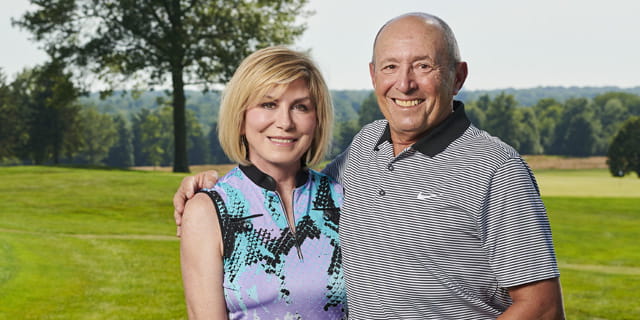 In 2016, Michael Drusinsky tore his rotator cuff – again. Two years earlier, he tore three of four tendons in his shoulder cuff while working out in a gym in Florida, requiring immediate surgery. Following a lengthy recovery, he returned to his athletic way of life, only to re-tear the injury while golfing. This time, Michael's surgeon in Florida told him a repair was not an option. He would need a full reverse shoulder replacement.
For Michael, an active and competitive swimmer, squash player, runner and golfer, this news was incredibly concerning. "Sports have always been a big part of my life," he said, crediting decades of competitive squash, in particular, for teaching him discipline and the importance of hard work. "This made me who I am. I don't know what I would do if I had to give up my active lifestyle." However, while talking to friend and University Hospitals CEO Tom Zenty, Michael learned there might be another option. "Tom told me, 'Michael, you need to come home to Cleveland. You need to see Dr. James Voos.'"
James E. Voos, MD, Chair, UH Department of Orthopaedic Surgery; Jack & Mary Herrick Distinguished Chair, Orthopaedics and Sports Medicine; and Head Team Physician for the Cleveland Browns is a nationally renowned expert in the care of athletes and active patients of all ages. After meeting with Michael and his wife, Grace, Dr. Voos and fellow orthopedic surgeon Robert J. Gillespie, MD, Chief, Division of Shoulder & Elbow Surgery, UH Cleveland Medical Center, suggested an alternative course of action.
"Replacement surgery would have limited Michael's ability in certain sports and, given his athleticism, we viewed it as a last resort," said Dr. Gillespie. "Fortunately, due to recent innovations, there were a number of different repair options available. Our solution was to treat the torn and damaged tissue using a minimally invasive arthroscopic technique." When Michael decided to have the repair procedure at UH, he contacted the surgeon in Florida. "He did not believe a second repair was feasible, but he knew Drs. Voos and Gillespie and said that I was in great hands," said Michael. "He recommended I have the surgery at UH and, three years later, I am very grateful that I did. My golf game has not improved, but my shoulder feels great!"
Within months, Michael was practicing his putting and, after a two-year rehabilitation, was back in the full swing of it. "It's funny, because we didn't start golfing until after we were married in 1999," shared Grace. "We were so bad, our instructor suggested we consider another hobby! But you would never know that today based on Michael's golf game. Just like you wouldn't guess he took years off to recover from surgery. He bounced right back."
"Your body tells you what you can and can't do, but sometimes you push it to the limit. That's what I did and, thankfully, Drs. Voos and Gillespie put me back together and got me back on the course." – – Michael Drusinsky
To show their appreciation, the couple established the Michael and Grace Drusinsky Chair in Orthopaedic Surgery and Sports Medicine in 2017, of which Dr. Gillespie is the inaugural holder. In 2019, after hearing Dr. Voos' revolutionary plans for the future of UH Sports Medicine Institute, Michael and Grace were inspired to make a transformational, eight-figure gift. Their generosity will give rise to the world-class Drusinsky Family Sports Medicine Complex. "Dr. Voos has an innovative vision for the future of orthopedic and sports medicine care," agreed the Drusinskys. "It's an opportunity for us to be part of something incredibly unique that will benefit our community and beyond."
In honor of Dr. Fanaroff, who directed the neonatal division at UH Rainbow for more than two decades and served as the UH Chair of Pediatrics, and the life-saving efforts of his team, Michael and Grace established the Drusinsky-Fanaroff Chair in Neonatology in 2006. The position continues to be held by inaugural appointee and leading neonatologist Richard J. Martin, MD.
"This city and community have been very good to us and our families," said Grace. "Our motivation for giving is about the people that will benefit from our contributions."
"As an immigrant, people ask why I came to Cleveland," Michael concluded. "Yes, I wanted to be near family, but more than that, it's a tremendous and welcoming community. I always knew in the back of my mind that we would find a way to express our gratitude."
A New Game Plan for Sports Medicine Care
Part of the UH Ahuja Medical Center Phase 2 project, the Drusinsky Family Sports Medicine Complex will be the most comprehensive, patient-centered facility of its kind in the United States. The 20,000 squarefoot, multi-story complex will feature:
Clinical care and treatment for athletes of all ages;
An unparalleled Sports Performance Center for rehabilitation and physical therapy, complete with a variety of turfs and playing surfaces;
Injury prevention, training and performance assessments;
Outpatient radiology and diagnostics;
Dedicated surgical suites; and,
A walk-in orthopedic urgent care.
Kids start sports at a young age and, at the same time, people are remaining active and living longer. One of the great things about this facility is it will benefit everyone, from children to retirees and everyone in between. – Grace Drusinsky
The facility, explained Dr. Voos, will be a destination for advanced sports medicine care, consolidating a variety of services, such as sports cardiology, concussion and neurological care, sports nutrition, holistic pain management care from UH Connor Integrative Health Network and more into a convenient, premier facility. "The goal is to care for healthy athletes and provide the education and services necessary to keep them at the top of their game," said Dr. Voos. "But injuries happen, whether you're in the big leagues or the backyard. The Drusinsky Family Sports Medicine Complex will be a one-stop shop to help patients through their journey, with all the space, tools and inspiration they need to get back to an active lifestyle." Michael and Grace said the plan immediately resonated with them. "One of the most impressive parts of the design, for me, is the rehabilitation area," noted Grace. "It's designed more like a gym than a medical facility because, while these patients may be injured, they aren't sick. That's an important distinction to make, especially for younger patients." "To have everything under one roof is going to make a huge difference to patient recovery," said Michael. "This facility will be a tremendous asset for Cleveland and advance UH's leadership in the field of sports medicine."
Backing the Home Team
The Drusinskys' commitment to Cleveland is deeply personal. "I grew up here, attended college here and then worked here," said Grace, whose family emigrated from Italy when she three years old. "I wasn't born here, but it has always been home." A South African native, Michael also immigrated to Cleveland, following his sister, Roslyn, and her husband, internationally recognized neonatologist Avroy A. Fanaroff, MD, to the United States in 1976. "Av accepted a position at UH Rainbow Babies & Children's Hospital and it was really because of him that I got involved at UH," he said.