Gift from Danielle and Michael Weiner to Advance Women and Newborn Care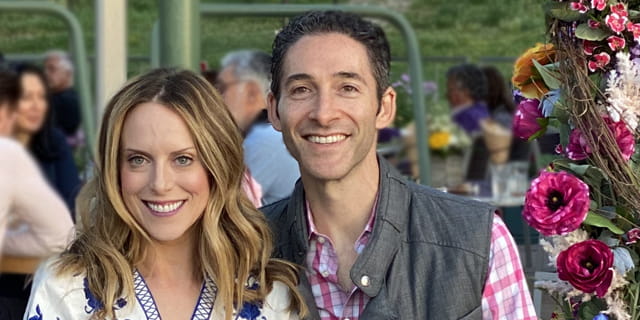 Danielle and Michael Weiner
A $2 million gift from Danielle and Michael Weiner will help bring labor and delivery services to UH Ahuja Medical Center as part of the campus' Phase 2 expansion. The family's generosity will be recognized with the naming of the Danielle and Michael Weiner Maternity Suite.
"Philanthropy and service to others have always been an important part of my life. My connection to Rainbow has been fostered over many years, first as a child by my family and more recently as a leader within the Rainbow Babies & Children's Foundation" said Danielle 'Dani' Weiner who, at age 13, contributed funds she received for her Bat Mitzvah to furnish a playroom at UH Rainbow Babies & Children's Hospital.
Her generosity ignited a multi-generational tradition of support for the health system: her grandfather, the late Leonard Horvitz, and his wife, Joan, committed funds to build Horvitz Tower at UH Rainbow; her parents, Richard and the late Marcy Horvitz, helped fund adult and pediatric research; and, after her mother's passing in 2003, all three generations came together to make a gift to name the Marcy R. Horvitz Pediatric Emergency Center. Additional support from Dani and Michael – ranging from Ride the Rainbow event sponsorships to their donation of personal protective equipment at the height of the COVID-19 pandemic – have further sustained the UH mission.
Today, Dani is President-elect of the Rainbow Babies & Children's Foundation and co-chairs the foundation's signature event, Ride the Rainbow. She is also chair of the UH Ahuja Phase 2 Women & Newborn subcommittee; and serves on the UH Rainbow Campaign Committee.
"Since having our first child at Rainbow we have advocated for the expansion of labor and delivery to the east side of Cleveland. Knowing how many local families will be impacted by the project is truly rewarding and continues a tradition of giving that our own children can understand and relate to," shared Michael Weiner, Managing Partner of Ninth Street Capital Partners and a member of the UH Orthopedics Leadership Council. "In the process, we hope to make a positive difference in the lives of other local families."
Designed For Families First
To exceed the highest standards for quality, expert care, the Weiner Maternity Suite, part of the new Steve and Loree Potash Women & Newborn Center, was designed with the whole family in mind, with 23 private rooms equipped for the postpartum stay of both mom and baby, as well as family. To support mom's rest and recovery, the suite will also include a six bay nursery.
"The birth of a child and the days immediately following are precious and private moments for families," said Patti DePompei, RN, MSN, President, UH Rainbow Babies & Children's and UH MacDonald Women's hospitals and Rainbow Babies & Children's Foundation Chair in Leadership and Innovation. "The incredible support of the Weiner family will help deliver the high-quality care and specialized services mom and baby need in the compassionate, family-focused environment they deserve. Together, we will give our families a strong start."
Part of the UH Ahuja Phase 2 expansion, the new Potash Women & Newborn Center brings the trusted and collaborative care of UH Rainbow Babies & Children's and UH MacDonald Women's hospitals to the eastside of Cleveland, meeting the growing need for maternity care and advanced labor and delivery services. It is estimated that the center will deliver approximately 2,400 babies annually.
If you would like more information on how you can support the expansion at UH Ahuja Medical Center, please contact David Schrader at David.Schrader@UHhospitals.org.