A Family's Inspiring Commitment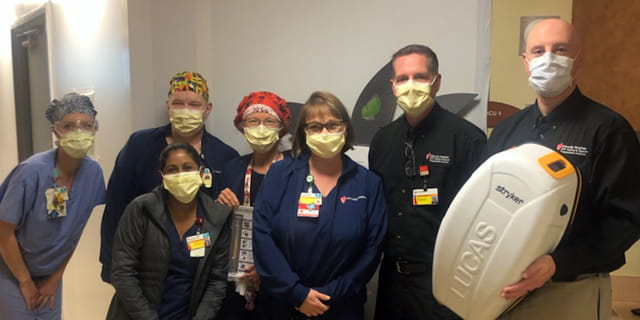 For father Mikhail Vinchel, family is everything. He was understandably concerned, therefore, when the COVID-19 pandemic reached Northeast Ohio where his son, Anton, and daughter-in-law, Andrea, are nurses at UH Richmond and UH Bedford medical centers.
"My family is the most important thing in the world to me and I want to do whatever I can to keep them safe," said Mikhail, who made a $210,000 gift to the UH Richmond Community Response Fund. "Anton and Andrea are incredibly dedicated health care professionals. The best way to protect them during this crisis is to help make sure their hospitals have the equipment and resources they need to beat this virus."
The largest philanthropic contribution in UH Richmond Medical Center history, the gift is providing an extra layer of protection for UH caregivers. "We are happy that our family is helping to support UH during this time," said Anton Vinchel, RN. "Already, we have seen the donation put to work and are proud to see it contributing to positive experiences and outcomes for both patients and staff."
Funds from the Vinchel family quickly facilitated the acquisition of much needed equipment and supplies for both UH Richmond and UH Bedford medical centers, including:
Three LUCAS™ mechanical chest compression systems, devices that deliver highly efficient and consistent CPR and decrease need for staff intervention and medical supplies

Mobile Xenex machine, a robotic machine that uses ultraviolet light to disinfect and sterilize hospitals
40 Powered Air Purifying Respirators (PAPRs), a type of personal protective equipment with a full hood and battery-powered blower to filter airborne contaminants
Two sets of washers and dryers, allowing scrubs to be cleaned on-site as an added safeguard for caregivers and their families
"This gift is incredibly meaningful on many levels," said Robin Rowell, CNP, President, UH Richmond and UH Bedford medical centers. "The equipment we are purchasing impacts a patient's entire journey, from the moment they arrive in the emergency room all the way through their recovery. These items will help us protect our patients and the passionate caregivers like Anton and Andrea that care for them."
"As frontline caregivers, we see the impact COVID-19 is having on our hospital, our colleagues and our community," said Andrea Vinchel, RN. "Every day, we know that we are risking our own health and safety, but this is where we are needed. This is where we want to be."
University Hospitals is grateful to all individuals and organizations willing to help our caregivers, patients and community during the COVID-19 crisis. Community response and caregiver support funds have been established to support the extensive patient care, medical supplies, research and education needs.