UH Restart Playbook Has Family-Owned Businesses Covered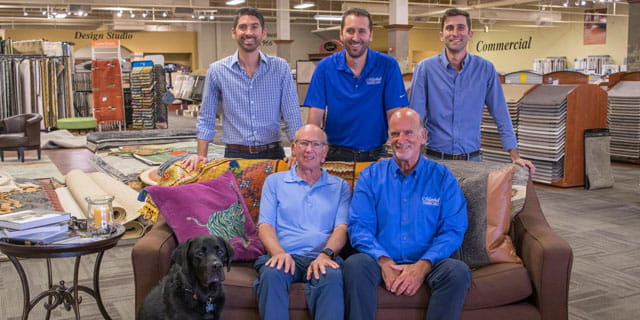 Marshall One Carpet, family owned business since 1966. Top Left: Matt Wien, Ryan Wien and Nate Wien. Bottom Left: Omar Jr. (store mascot), Chuck Wien and Marc Wien.
Matt Wien, Director of Sales at Marshall Carpet One & Rug Gallery, recently reflected on how COVID-19 affected his family's flooring business, a fixture in Mayfield Heights since 1966. "When COVID-19 became a reality, family-owned businesses like ours were taking direction from any number of sources: the CDC, the news, Dr. Fauci, the White House – and each one said something different. Those first weeks were tough. We were really in need of a trusted source to teach us how to keep our customers and employees safe, how to keep the showroom sanitized, how to manage social distancing, everything."
When the company received an email from University Hospitals offering guidelines and a corporate toolkit on how to prepare the workplace during COVID-19, Matt took note.
Marshall Carpet took swift action: they began providing masks to all employees and customers; started daily temperature screenings; learned the appropriate way to clean the store surfaces and flooring samples and educated installers in the field on best practices to keeping themselves and their customers safe.
"Additionally, the Playbook helped us think proactively about steps to take if one of us tested positive. We have several high risk individuals working here in the store, including my dad and my uncle, who are both over 60 years old. We wanted to take every precaution the UH experts recommended."
Matt received quotes from area cleaning companies on disinfecting the showroom and restrooms if someone did test positive. Thankfully, they have not had any issues, but, "the playbook gave us a real boost of confidence," said Matt.
Like everyone, when the pandemic hit, Marshall Carpet was plunged into unknown territory. Matt summed up their situation, "We needed to do everything we could to protect our staff in the store, our installers in the field, and of course our customers all over Northeast Ohio. The UH Restart Playbook provided us the clear guidelines to do just that, and we are so thankful for UH's commitment to community health."
University Hospitals is grateful to all individuals and organizations willing to help our caregivers, patients and community during the COVID-19 crisis. Community response and caregiver support funds have been established to support the extensive patient care, medical supplies, research and education needs.