UH Caregiver and COVID-19 Survivor Shares His Story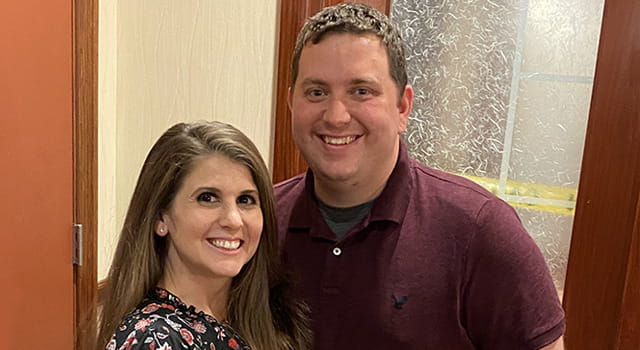 As a nurse in the UH Portage Medical Center Emergency Department, Travis McDonald, RN, knows the signs and symptoms of COVID-19. Unfortunately, he also knows the pain and isolation that come with the diagnosis.
Like many COVID-19 patients, Travis first realized he wasn't well when he began to experience significant shortness of breath. "It was late March when it started and, within a week, I was barely able to get up and walk around," he explained. "As a caregiver, my job is to help others. I didn't want to accept the fact that I had the virus, but in the back of my mind I knew it was true."
Travis went to UH Portage where, instead of providing care, he quickly found himself on the receiving end. "I was positive for COVID-19 but I really thought that I would only be there a day or two for observation," he said. "The next day, though, I was struggling to breathe and was transferred to intensive care. That's when I realized, despite my age and otherwise good health, that my case was serious."
Isolated and on a ventilator, Travis worried about his two families – his wife and children at home, and his colleagues at UH Portage. Fortunately, they came together as families often do in times of crisis.
"I couldn't be with him and it broke my heart," shared Travis's wife, Candice, herself a firefighter and EMT currently working in protective services at NASA. "Fortunately, Travis has an amazing work family and I knew they were there, surrounding him with positivity and support."
During the COVID-19 pandemic, iPads have become indispensable tools for UH caregivers, helping them keep patients and families connected. For Travis, it became his only lifeline to the outside world. "Every day, someone brought an iPad in," he recalled. "No matter how bad I was feeling, I could at least see Candice and hear our kids, and that helped. Other days, I was able to write messages on a board and tell them I loved them – that helped even more."
Thankfully, Travis recovered and was able to go home. "That day was emotional for all of us," said Candice. "Everyone at the hospital lined the halls and applauded as he was wheeled out. It was a tidal wave of love and support."
The weeks that followed were a challenge of their own for Travis. "It was a journey to get back my strength and get back to a normal way of life," he said. "But I'm grateful to be back at work with my coworkers. They were such a comfort to me and my family. Rejoining them in the ER was a great feeling. I can't think of a better place to be patient or employee."
University Hospitals is grateful to all individuals and organizations willing to help our caregivers, patients and community during the COVID-19 crisis. Community response and caregiver support funds have been established to support the extensive patient care, medical supplies, research and education needs.