Honoring the Dedication of Our Caregivers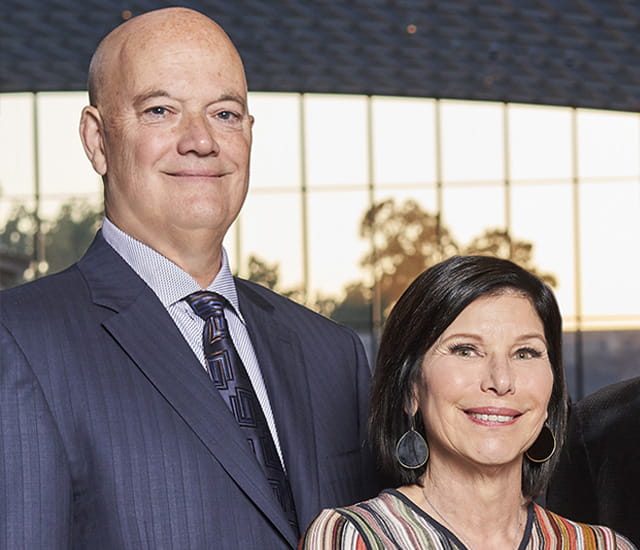 Inspired by University Hospital's response to the COVID-19 pandemic, Amy and Michael Southard decided to a make a gift to support the health system and its caregivers through this unprecedented crisis.
"At UH, people always come first," said Amy. "There are countless caregivers working on the frontlines to help keep our community safe and well. Their compassion and dedication is always admirable, but during a pandemic their commitment takes on new meaning. What they are doing is truly heroic and they deserve our utmost support."
In 2018, the Southards joined with Amy's father, Sam Minoff, and her brothers, Barry and Roy, in making a thoughtful investment into the community that helped build the family's company, Kichler Lighting. Their transformational support of UH outpatient care led to the renaming of UH Chagrin Highlands Health Center to the UH Minoff Health Center at Chagrin Highlands. It was further celebrated last fall when the family received UH's highest honor – a Samuel Mather Visionary Award.
Now, the couple has made another generous, community-focused gift through their foundation, Crofton Cares to UH, this time in response to the COVID-19 pandemic.
Amy and Michael's generous gift supports both the COVID-19 Community Response and COVID-19 Caregiver Support funds, created to help defray the unanticipated costs of the health crisis, ranging from extensive patient care and testing, medical supplies and research to providing for the protection, wellness and resilience of UH caregivers.
"During this crisis, the best thing we can do to help our community is to support UH and its caregivers," said Michael. "And the best way to help them is to give them the resources they need to fight this battle."
"Without a doubt, Amy and Michael's generous and heartfelt gift will further UH's response to this health crisis," said Daniel I. Simon, MD, Chief Clinical & Scientific Officer, University Hospitals and President, UH Cleveland Medical Center. "Their support will help accelerate important research studies and enhance the safety and wellbeing of our caregivers."
University Hospitals is grateful to all individuals and organizations willing to help our caregivers, patients and community during the COVID-19 crisis. Community response and caregiver support funds have been established to support the extensive patient care, medical supplies, research and education needs.