Hyundai Hope on Wheels Supports Drive-thru Testing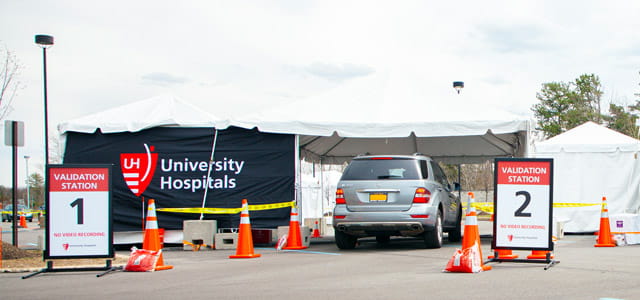 University Hospitals Rainbow Babies & Children's has received a $200,000 gift from Hyundai Hope On Wheels® (HHOW), a 501(c)(3) non-profit organization supported by Hyundai Motor America and its U.S. dealers in support of University Hospitals' COVID-19 drive-thru testing site at UH Landerbrook Health Center.
"We are so grateful for the generous gift from Hyundai Hope on Wheels in support of our drive-thru testing site at University Hospitals Landerbrook Health Center," says Cindy Zelis, MD, MBA, Vice President, Ambulatory Operations, UH. "This site and others like it around the world are saving lives and protecting caregivers on the front line of fighting COVID-19."
University Hospitals was one of the first health systems in Ohio to launch drive-thru testing for novel coronavirus. The testing location in Mayfield Heights is staffed by UH caregivers and is open to UH patients with a doctors order. The drive-thru testing began on March 16 and since has tested more than 2,000 clinically appropriate patients and UH employees of all ages.
"University Hospitals Rainbow Babies & Children's has a long-standing relationship with Hyundai Hope on Wheels, in support of the great work in pediatric cancer research that takes place on our academic medical center campus," said Patti DePompei, RN, MSN, President, UH Rainbow Babies & Children's and UH MacDonald Women's hospitals. "As most of what we do as health care providers is being impacted by the pandemic, it is humbling to receive continued support from organizations like Hyundai in new ways."
HHOW is one of the largest funders to support medical institutions and efforts to develop pediatric cancer research in the nation. UH Rainbow Babies & Children's Hospital has received more than $2.3 million in total grants from HHOW since 2010.
"Hyundai is a company committed to improving the well-being of society and the health of children," says Jose Munoz, President and CEO, Hyundai Motor North America. "In the last few weeks, our society has been challenged with a major pandemic that has had significant consequences to life, safety and well-being. Children who are diagnosed with cancer are particularly at high risk. Through our Hyundai Hope On Wheels program, we are committed to being a strong partner on behalf of children's health and assisting during this time."
University Hospitals is grateful to all individuals and organizations willing to help our caregivers, patients and community during the COVID-19 crisis. Community response and caregiver support funds have been established to support the extensive patient care, medical supplies, research and education needs.