Rising to the Challenge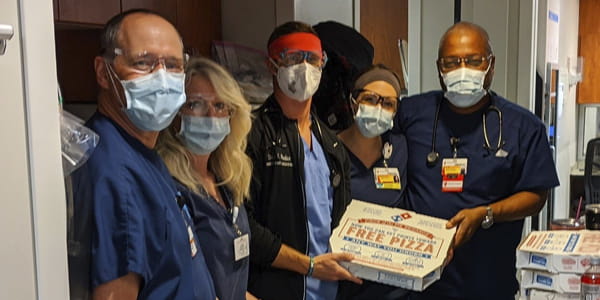 Right now, everyone is part of the same team and we are all working together to save lives. Some are doing this on the frontlines. Some are doing this from the lab. And others are doing this through philanthropy. We all have a part to play and all of our contributions are making a profound and meaningful impact.
YOU are helping save lives
After 27 days in the hospital, Kent resident and pilot Larry Davis conquered COVID-19 at UH Portage Medical Center. "There must have been 100 people who had a hand in saving my life and I'm grateful to every last one of them," he said. "It was a frightening experience, but the staff was incredible. They were there for me when my family couldn't be, and all the while they kept my wife updated on my status. I never doubted I was in good hands." With passion and unflinching commitment, UH caregivers across the system have provided world-class care throughout the pandemic. You helped them feel safe and supported by providing critically needed personal protective equipment, morale-boosting provisions and powerful displays of appreciation.
YOU are working towards a cure
The UH Clinical Research Center has been busy leading and participating in a variety of ground-breaking initiatives and clinical trials: UH was among the first locations in the country to conduct clinical trials of the antiviral drug remdesivir, which aims to block the virus from replicating and UH is the first activated clinical site for the MACOVIA trial, evaluating the safety and efficacy of a stem-cell therapy in the treatment of COVID-19-induced ARDS (Acute Respiratory Distress Syndrome). These are just a few of the COVID-19 research projects – some 75 in all – underway at UH.
As an academic medical center, UH is responsible for being part of the solution to this pandemic. Because of your support, we are doing our part to help end this pandemic. What we discover will save lives here in our community and around the world.
YOU are making a difference
"This has been such a challenging time for our caregivers as they work hard to care for our patients, families and each other," said Heather M. Harmon, JD, Vice President, Human Resources and Organizational Development, University Hospitals. "The tremendous support we have received from our donor community has been incredible and meant so much. We are so grateful for the generous support."
Since the start of the pandemic, UH friends and supporters have contributed more than $10 million to support the health system's COVID-19 response. Countless members of the community have rallied together, sewing fabric facemasks, providing medical supplies and meals, and giving generous charitable donations.
View a list of our supporters who have given $1,000 or more to the COVID-19 Response funds.
University Hospitals is grateful to all individuals and organizations willing to help our caregivers, patients and community during the COVID-19 crisis. Community response and caregiver support funds have been established to support the extensive patient care, medical supplies, research and education needs.