University Hospitals Surpasses $10 Million in Community Support in Fight Against COVID-19
UPDATE: Thanks to the generous support from our community, University Hospitals has raised more than $10 million for COVID-19 response efforts as of June 25, 2020. UH continues to be at the forefront of COVID-19 care, research and education and we will continue to take critical steps to ensure the health, safety and well-being of our community. Thank you, Northeast Ohio!
---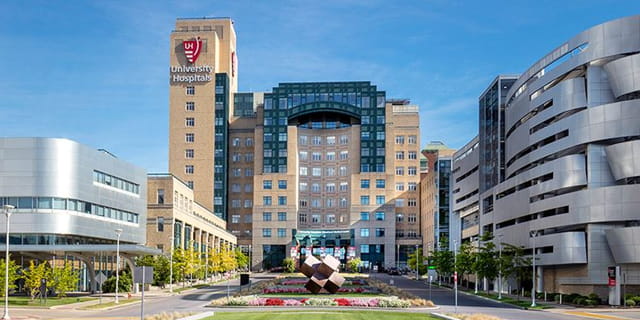 More than $5 million in community giving is helping to support University Hospitals' response to the ongoing COVID-19 health crisis. Contributions from community hospital foundations, totaling $2.25 million, represent a significant portion of the funds raised to date and will provide crucial, local-level support during the pandemic.
"Our caregivers are making untold sacrifices to meet this challenge unlike any other in our lifetimes," said Thomas F. Zenty III, CEO, University Hospitals. "While this pandemic may feel daunting, we have a resilient team and a dedicated community who are all demonstrating strength beyond measure."
Challenge grants of $500,000 each – awarded by Elyria Medical Center Foundation, Parma Hospital Health Care Foundation, Portage Medical Center Foundation and Samaritan Hospital Foundation – will support the COVID-19 Community Response Funds at each of the foundation's affiliated UH medical centers. Leading by example, the four hospital foundations hope the new challenge grants inspire others to join them in supporting their local UH medical centers.
"During this unprecedented time, I think all of us at community hospital foundations feel the same – it is crucial that we show our support for our local UH medical centers and the dedicated caregivers that work there," said Richard Beal, President, Samaritan Hospital Foundation.
An additional $250,000 gift from Rainbow Babies & Children's Foundation will help UH's nationally recognized children's hospital withstand the COVID-19 crisis and emerge strong. "It is vitally important that we help UH Rainbow face this challenge head-on and ensure that they're well-positioned to meet the post-crisis needs of our patients and families," said Rainbow Foundation President, Terri A. Kennedy.
In addition to local community foundations, individuals, corporations and family foundations across the region have responded to the crisis with overwhelming compassion, generously supporting UH's COVID-19 Community Response Fund and COVID-19 Caregiver Support Fund. Contributions to the two funds – including lead donations from the Vinchel Family, Amy and Michael Southard, Bank of America and Hyundai Hope on Wheels – are helping defray the unanticipated costs of the health crisis, ranging from extensive patient care and testing, medical supplies and research to providing for the protection, wellness and resilience of UH caregivers.
Donations of personal protective equipment, critical care supplies and homemade fabric facemasks – cumulatively valued at more than $500,000 – are further supporting UH and its frontline caregivers.
"University Hospitals has a long-standing commitment to the health and well-being of our community, a promise that we extended in recent years with the health system's regional expansion," said UH Chief Operating Officer, Eric Beck, DO, MPH. "Today, that promise is more important than ever and we are grateful to have wide-spread support throughout Northeast Ohio and beyond as we face this pandemic together."
University Hospitals is grateful to all individuals and organizations willing to help our caregivers, patients and community during the COVID-19 crisis. Community response and caregiver support funds have been established to support the extensive patient care, medical supplies, research and education needs.