Longtime CEO Leaves his Mark on University Hospitals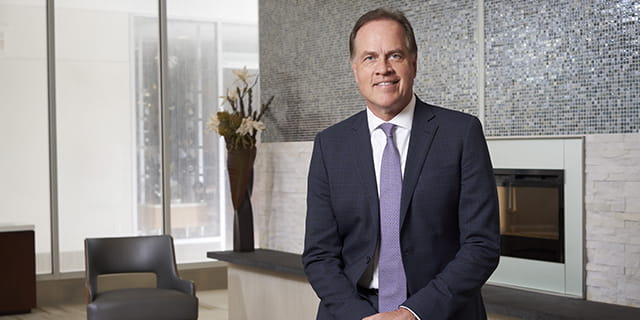 In late 2019, University Hospitals announced the planned retirement of longtime CEO, Thomas F. Zenty III, under whose leadership UH has grown to a super-regional academic health system with a national reputation for the highest-quality care. His nearly two-decade tenure will come to a close on January 31, 2021.
"When I came to UH 18 years ago, I had no idea what this hospital would come to mean to me," shared Tom, who, prior to UH, held leadership roles at health systems in California, Arizona, New Jersey and Connecticut. "I think UH is among the finest integrated health systems in the world, as a result of our extraordinary caregivers, the quality of care we provide, our research and teaching capabilities and our philanthropic community."
Tom's passion and commitment have proven invaluable in more ways than one, according to Shelly Adelman, longtime chair of the UH Development Committee. "Tom has been pivotal to the hospital's fundraising efforts," he said. "Before we launched Vision 2010, consultants estimated we could raise maybe $225 million. But they underestimated two things: the generosity of our community and Tom's ability to inspire transformational giving. The community came together in a powerful and profound way, far exceeding what anyone thought possible." Building on Vision 2010, the Discover the Difference Campaign, led by Shelly and co-chairs Monte Ahuja and the late Jack Breen, went on to raise more than $1.5 billion.
Highlights
During Tom's tenure, UH invested in the construction, renovation and expansion of facilities, physician and nurse recruitment, advanced technologies and programmatic growth. His efforts earned him the prestigious Warren Bennis Award for Excellence in Leadership from the Global Institute of Leadership Development in 2015, as well as recognition among Modern Healthcare's "100 Most Influential People in Healthcare" and the Northeast Ohio Business Hall of Fame.
Vision 2010
A system-wide strategic plan, Vision 2010 realized four state-of-the-art projects: UH Ahuja Medical Center; Quentin & Elisabeth Alexander Level IV Neonatal Intensive Care Unit; Center for Emergency Medicine and the Marcy R. Horvitz Pediatric Emergency Center; and UH Seidman Cancer Center.
Discover the Difference
UH's nationally-recognized campaign, Discover the Difference forever transformed the health system. Propelled by extraordinary philanthropy, the comprehensive campaign exceeded its original goal in 2012 and went on to raise an historic $1.51 billion to expand services, support recruitment and training, and endow clinical and research programs for future generations.
UH Rainbow Center for Women & Children
Opened in Cleveland's MidTown neighborhood in 2018, the UH Rainbow Center for Women & Children extends the system's commitment to community-based care. The center embodies UH's model to transform health and wellness by improving access to care and addressing social factors that positively affect health.
Regional Expansion
Over the past five years, UH has welcomed numerous community hospitals into the UH health system, including in Parma, Elyria, Westlake, Portage and Ashland. Today, UH is an integrated network of 18 hospitals and more than 50 health centers and outpatient facilities located across 16 counties.
Leadership Development
A system-wide priority to build employee leadership skills led to the creation of the UH Leadership Institute, reinforcing the hospital's commitment to career progression and professional development, and ensuring thoughtful succession planning. Today, nearly 80 percent of promotions come from within the system.
LOOKING TO THE FUTURE
Cliff A. Megerian, MD, President, University Hospitals, will succeed Tom as CEO on February 1. "Cliff is an accomplished physician and scientist," said Art Anton, Chair, UH Board of Trustees. "We believe his keen insight into health care strategy and trends will serve our health system well going forward."
Dr. Megerian considers it a unique honor to succeed the man he has called mentor, colleague and friend. "Tom set a high bar for our health system," he said. "We will build on the strong foundation of excellence he put in place and strive to take UH to new heights."
Throughout 2020, the two leaders worked closely to ensure a smooth transition. "Cliff has the clinical, academic and operational experience that this role requires," said Tom. "But most importantly, he has a deep appreciation for the character of UH. I have no doubt that our mission, our patients and our caregivers will be in good hands."