Five Star Sensation Raises Nearly $1 Million for UH Seidman Cancer Center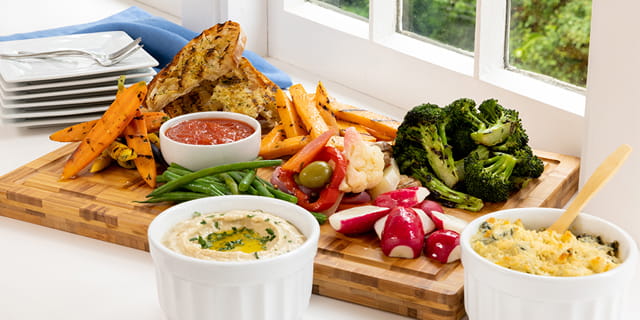 Northeast Ohio's premier food and wine event - Five Star Sensation, presented by Huntington - was again a five-star success, raising nearly $1 million for cancer research and services while supporting Northeast Ohio restauranteurs affected by the COVID-19 pandemic.
"This year's events were inspired by Five Star's mission to support leading-edge cancer care. On behalf of the entire UH Seidman Cancer Center family, we are so deeply appreciative of the tremendous support our hosts, guests, chefs, and vintners provided," said Honorary Chair Theodoros Teknos, MD, President and Scientific Director of UH Seidman Cancer Center; Jane and Lee Seidman Chair in Cancer Innovation.
Funds raised through Five Star Sensation directly benefit cutting-edge research and lifesaving clinical trials, which are hallmarks of UH Seidman. Supporters could also select to participate in the Five Star Bite Back campaign by selecting an amount of $500, $250 or $100. Half of the amount selected benefits UH Seidman as a donation. The remaining half is loaded onto a gift card and mailed to donors for use in Northeast Ohio restaurants.
Because of the pandemic, UH's 25-year tradition of a tent-covered, celebrity chef event that attracted crowds of thousands was not possible. On Sept. 18, 18 donors opened their homes for Chef's Table Experiences where guests enjoyed gourmet dinner and wine pairings prepared by Five Star chefs and vintners delivered to donors' homes. To round out the weekend, donors played a round of golf while enjoying chef-prepared fare along the course at Barrington Golf Course on Sept. 19.
"We were honored to host a Chef de Cuisine dinner with acclaimed Chef Geoffrey Zakarian at our home on Sept. 17 to kick-off the Five Star Sensation weekend," said Kenn and Pamela Ricci. "Our family is excited about any opportunity to help raise funds for University Hospitals, UH Seidman Cancer Center and many other worthy programs."
Funds from the benefit support UH Seidman physician-scientists' innovative work to identify promising new therapies as well as community cancer screenings, cancer information services and public education programs. UH Seidman prides itself on multidisciplinary care, innovation in treatment and therapies, surgical expertise, survivorship programs and patient and family-centered care. UH Seidman is part of the National Cancer Institute – designated Case Comprehensive Cancer Center at Case Western Reserve University – one of only 45 such centers in the country.
Special thanks to Kathy Coleman, Ida Haber and Debbie Wert, Event Co-Chairs; Sean Richardson, Regional President, Huntington Bank, Corporate Chair; Theodoros Teknos, MD, Honorary Event Chair, President and Scientific Director, UH Seidman Cancer Center, Jane and Lee Seidman Chair in Cancer Innovation; all of our hosts, guests, chefs and vintners; and our sponsors who helped make Five Star Sensation truly sensational.
If you haven't done so already, it is not too late to make a gift today to support Five Star Sensation and UH Seidman Cancer Center.