Baby's First Book Launches at UH MacDonald and UH Portage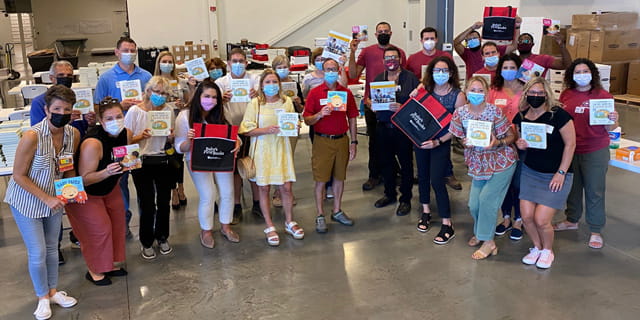 Volunteers from University Hospitals and OverDrive packed up more than 1,400 books for the launch of Baby's First Books.
The American Academy of Pediatrics encourages parents to read aloud to their baby every day, beginning soon after birth. A new program at UH MacDonald Women's Hospital and UH Portage Medical Center is aimed at helping new parents embrace early childhood literacy and their local library.
Baby's First Books launched on September 28, 2021. Each family who delivers at UH MacDonald and UH Portage receives a bag filled with baby-friendly board books, literature on healthy parenting tips, and the option to activate baby's first library card. The program is funded through a generous gift from Steve and Loree Potash, who also established the Steve and Loree Potash Women & Newborn Center at UH Ahuja Medical Center.
"We are really excited to be able to connect with our patients about the importance of early childhood development and literacy," said Amy Sondles, MN, RN, Newborn Network Quality Improvement RN, UH Rainbow Babies and Children's Hospital. "We also hope to get our patients interested in using their public library. Volunteers will be available to help them activate their library card and then they can borrow e-books, music and movies through the Cuyahoga Public Library's website.
Even if they opt to not do the library card, they will still have all these books to take home and start reading to their newborn."
Steve is the president and CEO of OverDrive, the leading digital platform for eBooks, audiobooks and other digital media. On September 13 and 14, volunteers from UH and OverDrive packed up more than 1,400 Baby's First Books bags for the launch.
"The Potashes have been wonderful to work with," said Amy. "They are so excited about this program, which has spread to the rest of our staff."
The plan is to expand Baby's First Books to UH Geauga, Samaritan and St. John medical centers early next year.