Pet Pals Provide Comfort to UH Patients
Spending time at the hospital, either as an adult or a child, can often times be a stressful experience for the patient. University Hospitals strives to help alleviate this stress through Pet Pals, a pet therapy program that uses trained volunteers and their adult dogs to make short, in room visits to those who would enjoy the company of a furry friend.
Pet therapy has been found to have several benefits for children and adults. Pet therapy:
Reduces patients' feelings of loneliness, depression, stress and anxiety

Can lower blood pressure, cholesterol levels and heart rate

Increases feelings of self-esteem and self-acceptance
Therapy Dogs vs Facility Dogs
Pet Pals are pet therapy dogs that provide a comforting source of healing touch for children and adults in the hospital. Some dogs in our pet therapy program entertain the patients with tricks, whereas other dogs serve more as "teddy bears", perfect for cuddling, nuzzling and hugging.
A facility dog is different from a therapy dog in that it is a permanent member of the UH staff who works a 40 hour week. The facility dogs are specially trained and allowed to comfort patients going through clinical procedures such as chemotherapy.
Support for the Pet Pals Program
The Pet Pals Program has grown significantly in the last few years.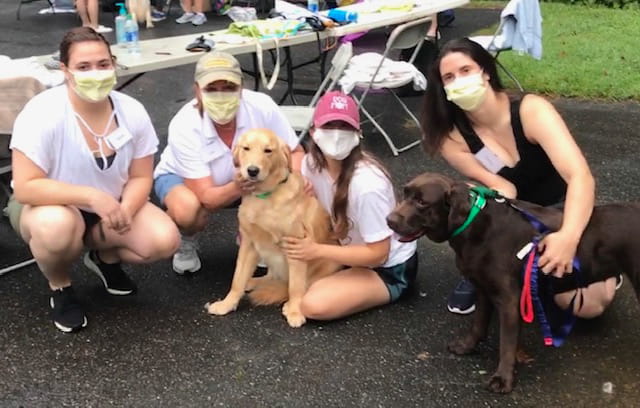 Melena and Starbucks with friends
In 2019, Diane Pekarek was named the Marion C. Risman and Family Pet Pals Coordinator, a newly established endowed position.
In 2020, thanks to Anita and Raju Modi, the Healing Paws committee, and other individual donors, UH acquired two full-time facility dogs from Canine Assistants: Melena, a Golden Retriever working in Pediatric Hematology/Oncology, and Starbucks, a Chocolate Lab working in the Pediatric Child and Adolescent Psychiatric Unit.
In 2021, UH received two grants from PetSmart, which allowed for the acquisition of four additional facility dogs, plus program evaluation.
How You Can Help
As the Pet Pals Program continues to grow across the health system, additional support is needed. The costs associated with the program include training for both the dog and dog owner, semiannual lab testing of animals, education on hospital policies for volunteers and support materials.
Make a gift online today to support the Pet Pals Program or contact Amy Einhorn at Amy.Einhorn@UHhospitals.org to establish a named Pet Pals Fund with a gift of $25,000 or more, which will support critical programming for this program.