Pet Pals Healing Paws
Saturday, September 28, 2019
Great Lakes Science Center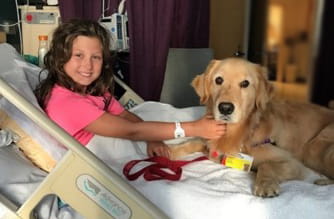 Join us for the Pet Pals Healing Paws event supporting the purchase and training for a new full-time facility dog at University Hospitals. A facility dog is different from a therapy dog in that it is a permanent member of the UH staff who works a 40 hour week. The facility dogs are specially trained and allowed to comfort patients going through clinical procedures such as chemotherapy.
To support this event, we invite you to attend one of two private showings of the movie "Superpower Dogs" on September 28. When purchasing sponsorships or tickets, please indicate if you will attend the 6 p.m. or 7:30 p.m. showing of the movie at Great Lakes Science Center.
If you are unable to attend the event, you can still make a donation to support the Pet Pals Program at University Hospitals.
For more information, please contact Jeanne Kratus at Jeanne.Kratus@UHhospitals.org.