Inspired by Compassionate Care at UH Rainbow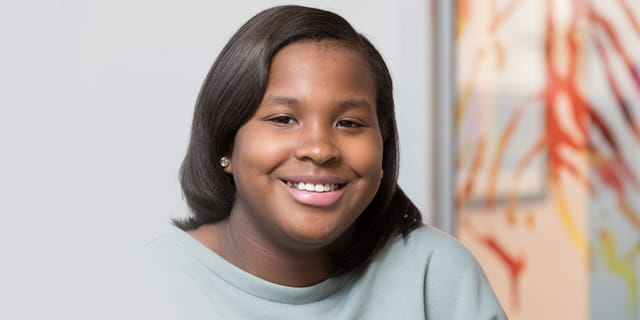 A simple fever typically means a trip to the emergency room for 16-year-old Makenzie Nance. Makenzie has sickle cell disease, an inherited blood disorder. Due to an increased risk for serious infections, she often has to be admitted to the hospital to make sure her fever isn't something more serious.
Makenzie was diagnosed with sickle cell as an infant and first came to University Hospitals Rainbow Babies & Children's Hospital 10 years ago when her family relocated to Cleveland from Atlanta. She is currently under the care of Connie Piccone, MD, Clinical Director of the Pediatric Sickle Cell Anemia Center.
"Rainbow has been phenomenal since day one," said Demeatrice Nance, Makenzie's mom. "They treat us like royalty every time we come in. They're helpful, they answer all our questions and make sure Makenzie is treated with love and compassion."
Makenzie sees Dr. Piccone and her team every two-three months and gets routine lab work done to adjust her daily medicines.
"Dr. Piccone really understands me and I can talk to her like I talk to my friends," said Makenzie. "We just have a special vibe."
Sickle cell doesn't hold Makenzie back. As a high school student, she participates in a number of extracurricular activities, including cheerleading, volleyball and softball. She's also very active in her father's church, Mount Gillion Missionary Baptist, where she loves to sing and dance.
Demeatrice said Makenzie does a great job of listening to her body. "She's very healthy thanks to the care she's gotten from her sickle cell team, but she still has to be aware, drink extra fluids, be compliant with taking her medicine and most of all, rest if needed."
Makenzie hopes to become a pediatric nurse or doctor herself one day and help children who have sickle cell. "I just want to help people and give back to everyone who has helped me."