Supporting Families in our Community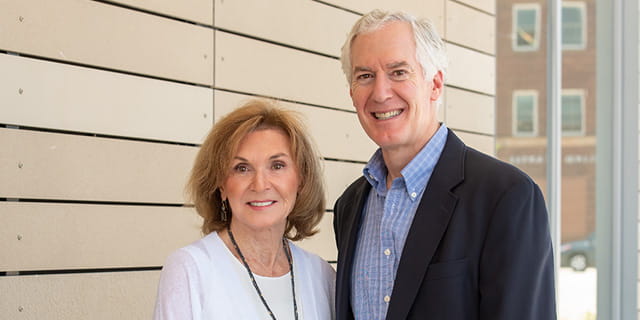 Nearly a decade ago, a tour of University Hospitals moved Flo Goodman and her late husband, Bob, to make a philanthropic commitment to the hospital's future. "After talking with several UH doctors about their specialties, there were so many areas that inspired us," recalled Flo, who said they ultimately decided to take a 'bookend approach,' supporting pediatrics and geriatrics though the Goodman-Kahane Endowed Lectureship Fund. The fund allows UH to present an annual lecture dedicated to developments in pediatrics and geriatrics, alternating the subject annually.
Years later, a New York Times article about fostering the healthy development of young children caught Flo's eye. She did not have to look far to find the Cleveland institution actively addressing that very issue – the new UH Rainbow Center for Women & Children, a state-of-the-art facility housing pediatric primary care, OB/GYN services and innovative support programs, was under construction.
"It is so well thought out in every way," she said. "The services, all under one roof, are tailored to the needs of the neighborhood. Every detail has been attended to, right down to the art on the walls – everything is focused on helping families flourish."
For Flo, a longtime member of the Diamond Legacy Society, the perfect option for supporting the project was an IRA Charitable Rollover. She established the Florence Goodman Care for the Community Fund in 2015, supporting two vital UH programs at the center – Mom Power and Centering Parenting. Both intervention programs teach parenting and self-care skills to at-risk mothers and provide well-baby checks and post-partum care. "These programs help families overcome stressors, provide emotional support and teach activities that enrich children's health," said Flo. "They can only enhance our community and the world."
Flo was raised to care about others and lend a hand to those in need. "I grew up in New York City and our house on Friday nights was always filled with refugees my dad was helping get established in this country," she shared. "I learned that we all have good and bad times in our lives. Our challenge is to reach out to those in difficult situations and meet them where they are. Few people have the capability to single-handedly make an enormous difference – but everybody can participate in their own way to make an enormous difference in someone's life."