Envisioning the Emergency Care of Tomorrow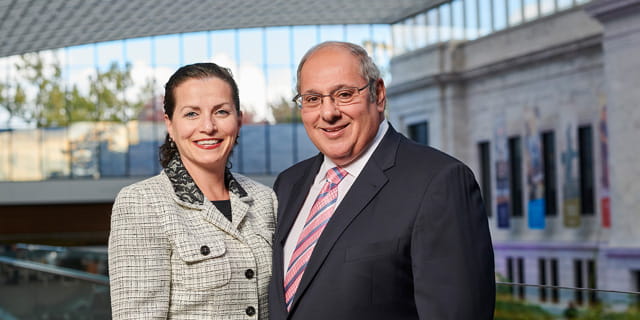 Mary and Dr. Rustom Khouri, longtime supporters of University Hospitals St. John Medical Center, recently committed $3 million to support renovations at the hospital's emergency department which, in recognition of their gift, will be renamed the Khouri Center for Emergency Medicine. This is the largest gift to the hospital in its nearly 40-year history.
"The Khouris' gift is truly transformative," said Thomas F. Zenty, III, UH Chief Executive Officer. "It will help us advance UH's strategy for delivering highly specialized emergency care on Cleveland's Westside for the more than 35,000 annual visitors to the UH St. John emergency department."
Renovations to the Khouri Center for Emergency Medicine will include state-of-the-art technology and diagnostic equipment, a modern and open layout, and standardized exam and treatment rooms to reduce the possibility of an error during the care process.
"Providing the highest-quality care, close to the homes of the patients we are privileged to serve, is a hallmark of University Hospitals," said Rob David, President, UH St. John Medical Center. "We are grateful to Mary and Rustom Khouri for their generous gift, which enhances our ability to deliver that care to the people of Westlake and surrounding communities."
Earlier this year, UH St. John Medical Center earned a Five-Star Rating for Quality from the Centers for Medicare and Medicaid Services and, in May, was awarded Silver Status for stroke care through the American Heart and American Stroke Associations. This gift will enable clinical staff to continue exceeding the standard of care for patients suffering from life-threatening conditions.
"Our family has relied on UH St. John Medical Center for decades," said Mary Khouri, Founder and Chief Administrative Officer of Carnegie Management and Development Corporation, who also serves on the board of Rainbow Babies & Children's Foundation. "From broken bones to births, we have always been in good hands and now we want to give back to ensure others will continue to receive this kind of outstanding care for generations to come."
Mary and Rustom's gift follows a period of notable clinical growth for the hospital as well as aggressive investment in physician recruitment and facilities on the part of the health system. "We've grown our robust clinical team to include neurosurgeons; cancer surgeons with expertise in breast, colorectal, thoracic, prostate and head and neck cancers; and general surgeons whose advanced training in minimally invasive and trauma-related procedures rounds out the extensive expertise of our team," said Mr. David. "We've also invested heavily in leading-edge, neuro-navigation equipment and, in July, renovated our cardiac catheterization lab in UH Harrington Heart & Vascular Institute."
The health system's exceptional investment in the hospital proved a driving factor in the Khouri's decision to support the medical center. "UH St. John is an extremely valuable asset in our community," said Dr. Khouri. "The physicians and staff are superb. They have saved the lives of countless patients and restored many more to good health. We are pleased that UH has expanded the breadth and complexity of its services there to better serve the patients and families of the many Westside communities who rely on the hospital for care."