Celebrating a Decade of Community-Focused Care at UH Ahuja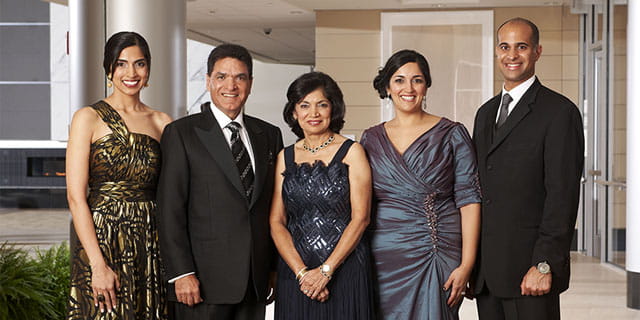 Ahuja family, from left Ritu Ahuja Khanna, Monte and Usha Ahuja, Manisha Ahuja Sethi and Neil Sethi, at the opening celebration, Nov. 2010
Catalyzed by the transformational support of the Ahuja family, Phase 2 expansion, UH Ahuja continues to represent the health system's commitment to bring the best and most advanced care close to home for patients and families.
An investment into the community and those who live there, UH Ahuja was the product of profound and inspiring philanthropy. In 2006, Monte and Usha Ahuja and their family committed $30 million to the project – then the single largest gift in UH history. The Ahuja's generous support played a key role in making the medical center possible and served as an invaluable catalyst, inspiring countless other gifts from individuals, families and foundations throughout the region.
"I wish no one would have to go the hospital," said Monte Ahuja when the facility opened. "But if you do, you won't find a better place in terms of quality, comfort, and care."
Watch UH Ahuja caregivers reflect on 10-years of community-focused care.