Celebrating a Decade of Care at UH Seidman Cancer Center
Since opening in 2011, University Hospitals Seidman Cancer Center has served as an epicenter for cancer research and discovery, delivering personalized care and the latest treatments and trials with unparalleled compassion. In June 2021, UH Seidman Cancer Center celebrated its 10-year anniversary. View the above video as caregivers and patients reflect on the impact of the compassionate care at UH Seidman Cancer Center.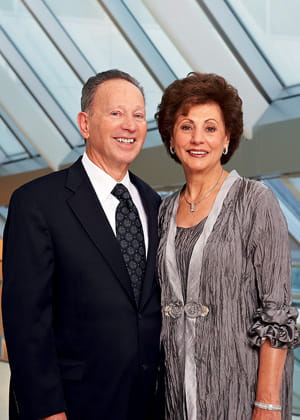 Lee and Jane Seidman
Named in recognition of a $42 million transformational gift from Jane and Lee Seidman, generous philanthropic support allows UH Seidman to offer the most advanced cancer treatments, community outreach and prevention to thousands of families in Northeast Ohio and across the nation.
Today, UH Seidman's primary location on main campus is the hub of a comprehensive network with 17 outpatient locations — plus the upcoming addition of the newest community center in Avon — that will cover 11 counties, bringing nationally ranked cancer care close to home.
"Seidman is unique. It's unique in that its one of the 13 free-standing cancer hospitals in the United States. The work that we do not only helps people here in Cleveland, but it is really felt throughout the whole world," shared Ted Teknos, MD, President and Scientific Director, UH Seidman Cancer Center; Jane and Lee Seidman Chair in Cancer Innovation.
As part of the NCI-designated Case Comprehensive Cancer Center, UH Seidman Cancer Center has been ranked as one of the best cancer hospitals in the nation by U.S. News & World Report for more than 20 consecutive years. The next decade promises continued research and developments with targeted therapies and the development of the Wesley Center for Immunotherapy.
To honor this special anniversary, we invite you to share your experience, a message of gratitude or recognize a UH Seidman caregiver. We are proud of our caregivers and would be honored to share your message of gratitude and recognize the best of our best. Please note, a member of UH Institutional Relations & Development may contact you to discuss using your story in a UH publication or on our website.