Austin's Playroom Opens at UH Rainbow Babies & Children's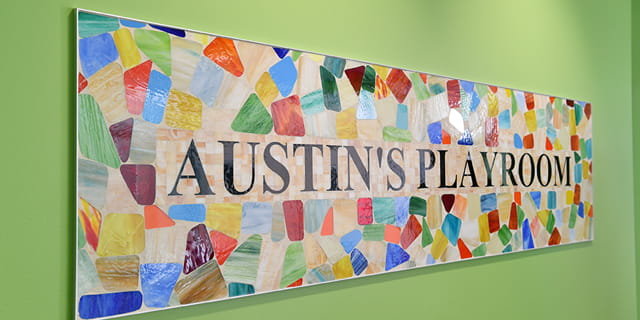 University Hospitals Rainbow Babies & Children's and the Mario Lemieux Foundation announced the opening of an Austin's Playroom on the hospital's fourth floor, adjacent to the Neonatal Intensive Care Unit (NICU). The playroom provides kids a place to play and relax while in the hospital or when visiting a loved one.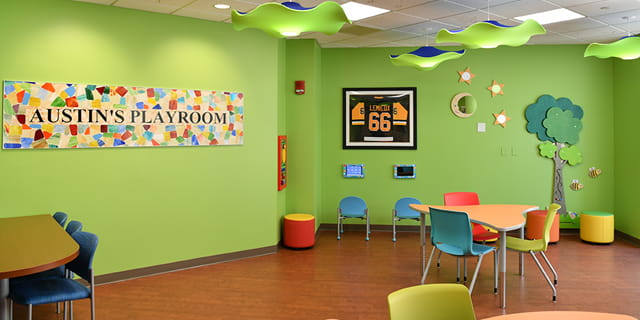 Inside Austin's Playroom at UH Rainbow Babies & Children's Hospital
Austin's Playroom features comfortable child-sized furnishings, as well as games, toys, books, electronics, and child-friendly artwork. Nathalie Lemieux uniquely and personally designs each playroom. Each playroom features a train table, wall-mounted games, large screen TV, and much more, inside a brightly painted room.
First Austin's Playroom in Ohio
"We are so pleased to open the 42nd Austin's Playroom and the first in Ohio," said Nathalie Lemieux. "Our goal is to reach as many children and families as possible, and we are excited to bring an Austin's Playroom to babies and children at University Hospitals Rainbow Babies & Children's."
Austin's Playrooms was established as a result of Nathalie and Mario Lemieux's personal experience while caring for their infant son, Austin. In 1996, Austin was born profoundly premature and spent 71 days in the NICU. While they were caring for Austin, there was nothing to engage his sisters, who were both toddlers at the time. It was then Mario and Nathalie realized a need for playrooms and began their plan to establish Austin's Playrooms.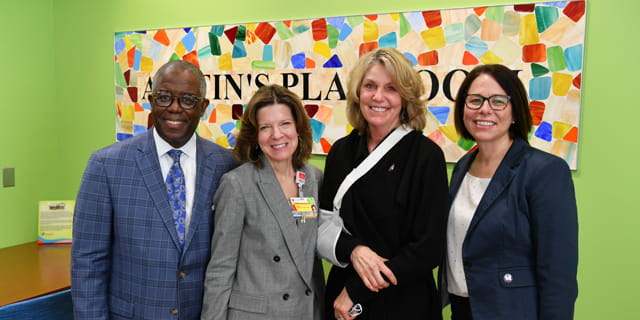 Left to right: Edward Barksdale, MD, Division Chief, Pediatric Surgery, UH Rainbow Babies & Children's and Robert J. Izant, Jr., MD, Chair in Pediatric Surgery; Patti DePompei, RN, MSN, President, UH Rainbow Babies & Children's and UH MacDonald Women's Hospital and Rainbow Babies & Children's Foundation Chair in Leadership and Innovation; Nathalie Lemieux, vice president, Mario Lemieux Foundation and chair, Austin's Playrooms; Nancy Angus, Executive Director of the Mario Lemieux Foundation
"I started my career as a nurse in the pediatric and neonatal intensive care units here at UH Rainbow, and vividly remember how stressful it can be for parents and siblings when faced with the anxiety of having a newborn in the NICU," said Patti DePompei, RN, MSN, President, UH Rainbow Babies & Children's and UH MacDonald Women's Hospital and Rainbow Babies & Children's Foundation Chair in Leadership and Innovation. "Having an Austin's Playroom here will improve our families' experience, offering a form of distraction that will help to make the little ones feel better and do what kids do – play!"