$2 Million in Local Support Benefit UH Ahuja Medical Center
Gifts from Levy and Gottlieb Families to Progress UH Ahuja Phase 2 Expansion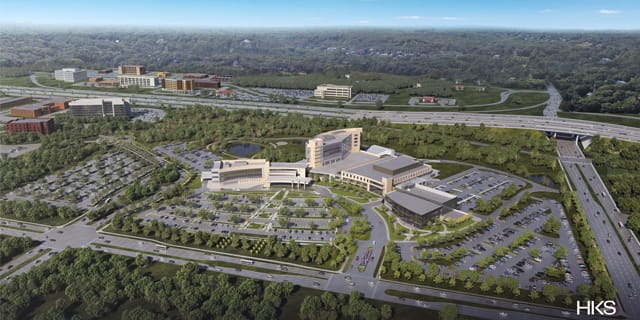 Local support totaling $2 million, comprised of generous $1 million gifts each from the Gretchen and Gregg Levy Family and Jodi and Jeff Gottlieb Family, is advancing the University Hospitals Ahuja Medical Center Phase 2 expansion. A nearly 300,000-square-foot project, UH Ahuja Phase 2 will significantly expand outpatient and surgical services and introduce comprehensive programs in women and newborn care, breast health, men's health and sports medicine.
"Community support made UH Ahuja Medical Center a reality in 2011 and will again play a critical role in Phase 2," said Cliff A. Megerian, MD, CEO, University Hospitals. "With these generous gifts, the Levy and Gottlieb families are investing in the future, ensuring UH Ahuja continues to deliver on its promise of providing convenient, best-in-class care for patients and families."
Gretchen and Gregg Levy Family, Inspired to Give Back
A gift of $1 million from the Gretchen and Gregg Levy Family was inspired by the innovative work of renowned orthopedic specialists Michael J. Salata, MD, Division Chief, Sports Medicine, UH Cleveland Medical Center, and John K. Sontich, MD, Chief, Orthopedic Trauma, UH Cleveland Medical Center. The Levy Family gift will be recognized with the naming of the basketball court in the Drusinsky Family Sports Medicine Complex at UH Ahuja.
Gregg Levy, CEO and co-founder of the full-service sports agency Verus Management Team, is regularly inspired by the expertise at UH Sports Medicine. "We are grateful to have Dr. Salata as a world-class orthopedic surgeon in our own backyard," he said. "He is a trusted advisor and physician to our family and friends as well as the roster of professional basketball players at our agency. More importantly, he has become a true friend."
Recognized for its first-rate medical care, personalized attention and innovative scientific research, UH Sports Medicine delivers unmatched care for athletes of all ages and abilities. The world-class sports Drusinsky Family Sports Medicine Complex at UH Ahuja Medical Center will adopt the same collaborative approach and expects to serve more than 1,350 sports performance patients annually.
Also part of UH Ahuja Phase 2, the Emergency Department will be expanded and add Level II trauma, something profoundly important to the Levys. "I say this all the time, but Dr. Sontich is my hero," said Gretchen Levy, whose arm Dr. Sontich saved following a freak accident in 2013. "I was so impressed with his work, that I tested him again when I broke my arm in 2018. We are lucky to have a trauma surgeon of his skill level here in Cleveland. After all we've been through together, Gregg and I think of him as family."
Jodi and Jeff Gottlieb Family, Committed to Community
A $1 million gift from the Jodi and Jeff Gottlieb Family will also benefit UH Ahuja Phase 2. The gift will be recognized with the naming of the registration area in the Drusinsky Family Sports Medicine Complex at UH Ahuja.
"For generations, UH has always taken tremendous care of my family," said Jeff Gottlieb, Vice President and Partner at Gottlieb & Sons, and a member of the Ahuja Medical Center Leadership Council. "As our friends and family age and develop more orthopedic needs, this facility is increasingly important and will help them and others throughout the region maintain active lifestyles."
Since opening in 2011, UH Ahuja Medical Center has embraced innovation and strived for excellence. A model of modern health care, the flagship facility has redefined what it means to be a community hospital and, in doing so, has helped transform the health and vitality of UH patients and families across the region. Phase 2 will build on this commitment, bringing advanced care such as the Drusinsky Family Sports Medicine Complex, Steve and Loree Potash Women & Newborn Center, Cutler Center for Men, and more to the UH Ahuja campus.
"For Jeff and me, the idea of giving was instilled by our parents and it's something that we have strived to pass on to our own children," said Jodi. "This community is our home and the people here are our neighbors. We are called to give back and, in times like these, giving to UH and our community hospital is more important than ever."