UH Geneva Community Christmas Card
Since 1970, members of the Geneva community have contributed more than $320,000 to the Community Christmas Card Fund, which benefits the critical care unit at UH Geneva Medical Center.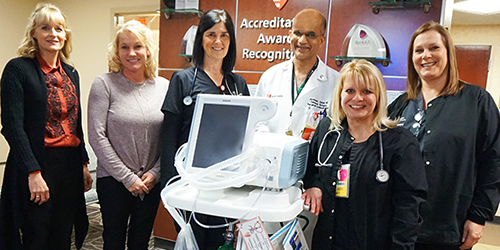 This year, contributions to the Community Christmas Card will help purchase innovative technology for noninvasive ventilation (NIV). Because every breath matters and every breath is different, patients need a ventilator that always follows their breathing pattern. The Respironics V60 uses Auto-Trak technology to help ensure patient synchrony and therapy acceptance. The success of NIV often depends on the speed and ease of treatment initiation. The V60 supports this critical step in NIV with an expansive color screen and pre-defined settings. The ventilator has the ability to treat a wide range of clinical severities and has a six hour battery for intra-hospital transport.
The Respironics V60 NIV ventilation system will be a tremendous lifesaving addition to the Critical Care Unit at UH Geneva Medical Center. This new piece of technology will enable UH to continue the tradition of high quality critical care to our community.
When you make a donation before December 19, your name will appear on the 2018 Community Christmas Card, to be published on Christmas Eve in the local Star Beacon newspaper, also published online, and in a window display at Central Hardware in downtown Geneva.
"The continued tradition of generosity of the Christmas Card fund along with all of the devoted individuals involved with it will continue to touch the lives of the countless patients that come to receive care in the Critical Care Unit at University Hospitals Geneva Medical Center," explained Amitabh Goel, MD, Chief Medical Officer at UH Geneva Medical Center.
Donations of any amount to the annual Community Christmas Card help support lifesaving equipment at UH Geneva Medical Center.