Scholarship Fund Supports Nursing at UH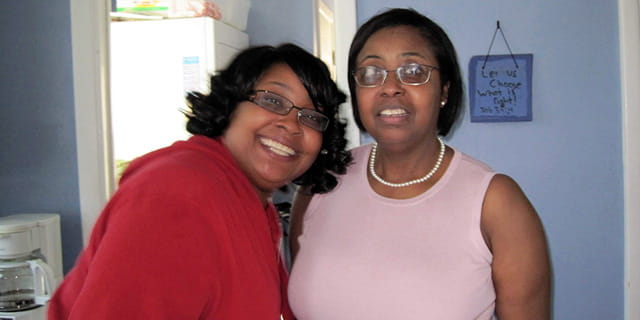 Carolyn Cacho Bowman, MD with Melissa Kelly.
During more than 20 years as a nephrologist at University Hospitals, Carolyn P. Cacho Bowman, MD, developed trusting relationships with countless patients being treated for conditions including hypertension and kidney failure. Today, she fondly recalls the many lives she touched, including one dialysis patient in particular named Melissa Kelly.
A Special Connection
Melissa first came to UH as a teenager suffering from nephrotic syndrome and on the brink of kidney failure. According to Dr. Cacho Bowman, their connection was immediate. "Melissa was smart, vibrant and determined to understand every aspect of her disease," she shared. "I have personally dealt with systemic lupus for many years, and I could see myself in her perseverance and strong personality. We shared the same values and perspectives about life and coping with a disease without surrendering to it."
Melissa was Dr. Cacho Bowman's patient for many years and, over time, their relationship extended beyond the hospital and blossomed into that of a mother and daughter. When the opportunity arose, Dr. Cacho Bowman took on the added responsibility as Melissa's surrogate mother.
"It just happened very naturally," said Dr. Cacho Bowman, explaining that Melissa came to live with her and her family. "Melissa became an instant big sister for our daughter and just completed our family. She enriched our lives every bit as much as we enhanced hers."
Making an Impact
Under Dr. Cacho Bowman's care and with the support of her new family, Melissa earned an education degree from Ursuline College. A joyful, creative and impactful leader, she was dedicated to community service and helping the less fortunate. She tirelessly raised kidney disease awareness and advocated for the physical, mental and emotional health needs of dialysis patients. She served on the UH Patient and Family Partnership Council and participated in National Kidney Foundation walks. And she learned all she could about her disease and promoted additional education for caregivers within UH's Dialysis Center.
Meanwhile, Melissa was added to the transplant list, and in 2000 that dream came true. Sadly, complications from health issues unrelated to kidney disease became insurmountable and she passed away in 2019.
Leaving a Legacy
Now retired from practice, Dr. Cacho Bowman has remained committed to improving outcomes for dialysis patients and raising awareness about kidney disease in Melissa's memory. Along with Kelly family members and friends, she brought her vision for the Melissa A. Kelly Scholarship Fund to fruition. The fund will provide annual awards to UH Cleveland Medical Center technicians and support staff in the Dialysis Center—particularly those who are Black, Hispanic or first in their families to attend college—who seek to advance their education in the field but face financial restraints.
Managed by Dr. Cacho Bowman; Megan Nodge, BSN, RN, CNN; Sheila Knox, RN (Melissa's aunt); and Celina Morales (Melissa's best friend and confidante), the fund recently granted scholarships to four UH caregivers, some of whom cared for Melissa directly. All are enrolled at Cuyahoga Community College and will graduate with degrees in nursing.
"The scholarship fund is one way to honor Melissa's legacy of leadership and love," said Dr. Cacho Bowman. "She was a dedicated teacher, she loved learning and she was a staunch advocate for education and excellence in the delivery of care to those living with renal failure. It is my privilege to continue that good work in her name."
Make a gift to support the Melissa A. Kelly Scholarship Fund.