Grant Supports Augment Therapy at UH Rainbow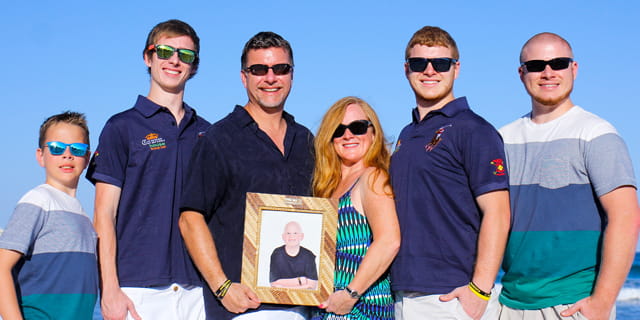 Debbie and John Higgins (center) started the Carson Higgins Memorial Foundation in 2017, one year after losing their son, Carson, to cancer.
When you're not feeling well, the last thing you want to do is get up and move. That's especially true for pediatric oncology patients. Treatment regimens often make exercise challenging to consistently perform and walking the hallways of the patient floors can get monotonous.
"If they're feeling up for anything, it may be playing video games or watching TV," said Elizabeth (Betsy) Hockey, PT, physical therapy and clinical specialist, UH Rainbow Babies & Children's Hospital. "It just contributes to them getting weaker and less mobile. It's a vicious cycle."
Augment Therapy is a new treatment option helping to get patients at UH Rainbow get excited about physical activity. The software creates a virtual environment, which encourages patients to move in various ways. They can choose from 35 different activities and their exercise performance is monitored and tracked.
"It really offers something for everyone, from our preschoolers to our adolescent and young adult patients," Betsy said. "Some kids love to move all over the place while others just want to walk through a virtual world. It's great because there are two player options so the parents can get involved as well."
Active feasibility trials were conducted with 30 patients with a variety of diagnoses, including brain tumors, leukemia and other cancers, Sickle Cell Disease, Cerebral Palsy and Cystic Fibrosis.
"One of the first kids we used it with was a 12-year-old boy with Cerebral Palsy," Betsy explained. "The prospect of using it was literally what would get him to agree to get out of bed – otherwise he wanted to just lay in bed all day. He would go and go until he was exhausted; his Mom said that it was the first time he had enjoyed physical therapy in his life."
Expanding the Program
Thanks to a generous grant from the Carson Higgins Memorial Foundation, UH Rainbow is poised to become the country's first children's hospital to use Augment Therapy to enhance the outcomes of physical therapy.
The grant will allow for the program and hardware to be installed in all 21 patient rooms within the Angie Fowler Adolescent and Young Adult Cancer Institute at UH Rainbow and the pediatric activity room and the teen lounge within the Andrew Uhrman Inpatient Unit at Angie's Institute. Two mobile carts will give therapists the freedom to take it to the Angie's Institute outpatient floor and other UH Rainbow floors.
"Our hope is that when kids come in we can introduce them to the program, pick out specific activities that are appropriate for them to get started, and then they can use it whenever they are up to it since it's in their room," said Betsy. "This will allow them to exercise more consistently and on their own time."
Paying it Forward
Debbie and John Higgins started the Carson Higgins Memorial Foundation in 2017, one year after losing their son, Carson, to cancer. Carson was first diagnosed with Stage 4 neuroblastoma at the age of three. After taking part in an experimental protocol at St. Jude Children's Research Hospital, Carson miraculously exhibited no signs of cancer. In 2015, the cancer returned. He passed away in 2016 at the age of 12.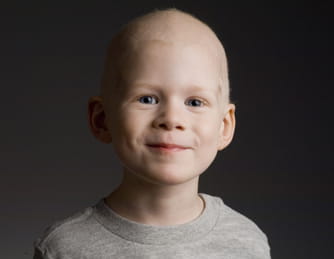 Carson Higgins at age 3.
"Carson was always trying to pay it forward, whether it was time, money, or energy," said John. "That's why we started this foundation, to give back and do something for the greater good." While Carson was never treated at UH Rainbow, Debbie and John, who live in Northeast Ohio, heard about UH Rainbow through friends whose children had been treated there.
"We were so excited when we heard about Augment Therapy and the opportunity to expand it at UH Rainbow," John explained. "When Carson needed physical therapy, he had to ride a stationary bike and he was so bored. Something like this, which kids actually want to do, makes it so much easier. This grant has the potential to effect so many children and families in such a positive way."
Debbie added, "This gift will allow Augment Therapy to grow and blossom and I hope leads to more pediatric hospitals adopting this technology. To make a difference in a child's life is so important to us and allows us to carry on Carson's legacy of kindness, paying it forward and helping others."