Expanding Care at UH Otis Moss Jr Health Center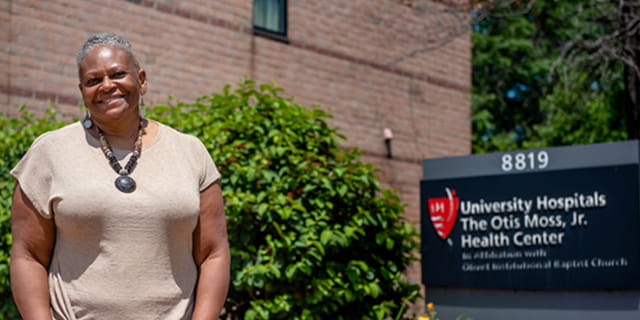 Pictured: Margaret Larkins-Pettigrew, MD, MEd, MPPM, FACOG, Director, Center for Community Impact, Equity, Diversity & Inclusion
For over 20 years, University Hospitals Otis Moss, Jr. Health Center has been serving the greater Cleveland community with the belief that high-quality healthcare should be accessible to everyone. UH's next goal is to transform the urban health center into an even greater resource for the community.
Established in close partnership with the Olivet Institutional Baptist Church, the center offers health care services for the whole family. Community partnerships also provide workforce development, legal assistance and housing counseling.
Expansion plans currently underway include the addition of a walk-in clinic, specialty services like mental health and addiction care and the creation of a center for men's health. These clinical upgrades will improve access to wellness and preventative care and help patients manage conditions such as obesity, diabetes, cardiovascular disease and food insecurity.
"When you don't know where your next paycheck is coming from or whether you can house and feed your family, healthcare becomes a luxury," said Margaret Larkins-Pettigrew, MD, MEd, MPPM, FACOG, Director, Center for Community Impact, Equity, Diversity & Inclusion. "Our patients need quality care, but to improve the community's overall health, they also need hope that they can do better and a commitment from us to help them get there."
Make a give today to support the UH Otis Moss, Jr. Health Center.