Specialized Pediatric Care at UH Rainbow Helps Family
He's only two years old, but Ixavier Pratt has visited the emergency room (ER) more times than many adults will in their lifetimes.
His problems started at just three months old when frequent respiratory illnesses led to a series of ER visits and hospital stays. Then, at seven months, Ixavier began wheezing and choking on his food. This time, his parents took him to UH Rainbow Babies & Children's Hospital.
"From the moment we went through the ER, we could tell we were in good hands," said his mom, Danielle Pettus. Ixavier was referred to UH Rainbow Babies & Children's Aerodigestive Clinic, where experts from a variety of specialties take a collaborative approach to treating children with complex airway, breathing and swallowing conditions.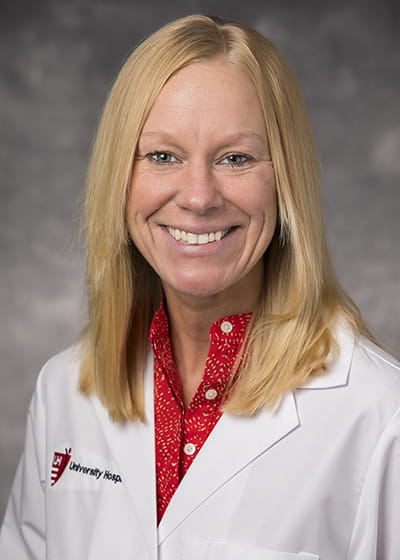 Christen Conard, CNP, Aerodigestive Clinic Nurse Navigator at UH Rainbow Babies & Children's
During Ixavier's first appointment, he met with a variety of physicians as well as a dietician, speech therapist and occupational therapist. "Our patients see every specialist during their visits," said Christen Conard, CNP, Aerodigestive Clinic Nurse Navigator. "They get the benefit of a multidisciplinary, coordinated team approach. It's also more convenient for families because they don't have to make separate appointments with each of the providers."
Ixavier was diagnosed with a variety of conditions, including a laryngeal cleft, a gap between the esophagus and windpipe. The rare malformation allowed liquids to get in Ixavier's airway when he swallowed, making him susceptible to infections.
"For the first couple months of Ixavier's life, we were wondering, 'What's wrong with our baby? Why is he always sick?'" shared Itwan Pratt, Ixavier's dad. "We were relieved to finally know what the problems were and that the Rainbow team had a treatment plan."
Thanks to regular visits to the Aerodigestive Clinic, Ixavier is now eating better, his energy has drastically improved and he's sick much less frequently.
"Rainbow has given us so much peace of mind," said Danielle. "All of the doctors are always on the same page, and I know they have his best interest in mind. As a parent, there's nothing more reassuring than that."