Conneaut Community Raises More than $100,000 UH Seidman Cancer Center Expansion
The Kendall Foundation and local family donations increase patient treatment options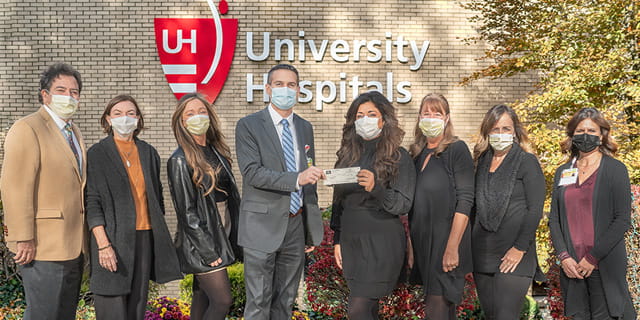 The Conneaut community has gifted more than $100,000 to upgrade and expand cancer treatment services at UH Conneaut Medical Center. The funds will help give patients the advanced, specialized care they need close to home.
The Kendall Foundation teamed up with the hospital to raise $50,000 for the expansion, a goal they surpassed by $7,000. A matching $50,000 gift from three local families further increased the contribution to an incredible $107,000.
Basic cancer treatment services have been available at UH Conneaut Medical Center, but renovations are needed in order to:
Create new infusion suites within the outpatient specialty care unit;
Build private exam rooms and an ADA accessible bathroom;
Construct a physician's office for private consultations with patients and families;
Enhance aesthetics to ensure privacy and a healing environment that reflects the expert care, compassion and skill provided by the physicians, nurses and staff.
Amidst the COVID-19 pandemic, Ashtabula resident Angela Kendall created The Kendall Foundation in order to make difference in the local community. "It became evident very quickly that so many organizations were being affected by the inability to fundraise due to COVID," Ms. Kendall said. "People were looking for something meaningful to join in on and to feel a part of, and so we started an online platform to raise money for non-profits, families and groups in need. We now have a group on Facebook of nearly 70,000 members!"
The Kendall Foundation raised the funds in just five months, and the team emphasized that it was truly a community effort. In addition to online fundraising, they held two events. "Cask for a Cause" was held at a local winery, Cask 307, and donors rallied to raise more than $10,000 in one night. Funds were also raised through the foundation's "Giving on the Green" golf scramble, held at Fowler's Mill. Additionally, the foundation received a large donation from Alex and Sarah Izzi, who raised $7,500 at a local bocce ball tournament that they hosted to honor Alex's mother who passed away from cancer.
Chuck and Kathie Hardin, Rich and Robbin Garcia and Ned Hyland joined together to match a $50,000 gift. Both Chuck and Rich are UH Conneaut Medical Center board members.
"Expanding Conneaut's capability in terms of providing infusion therapy is a most worthy cause," Mr. Hardin explained. "Chemotherapy is tough, and having to travel to Cleveland or elsewhere for it is even tougher. The Geneva community stepped up for their cancer center's expansion, and we wanted to do the same for Conneaut."
Mr. Hardin says he feels connected to the Conneaut community, which is another key reason his family decided to participate in the campaign. "I was born and raised in Conneaut," he said. "In fact, I was born at UH Conneaut - then known as Brown Memorial Hospital. I grew up down the street from the hospital and graduated from Conneaut High School. I don't have as many connections to Conneaut as I once did, but I have never forgotten the place or, more importantly, the people."
"We are extremely grateful to Angela and her team at The Kendall Foundation, our UH Conneaut board members and their families, and our local community for their perseverance in helping us reach this incredible fundraising milestone," said Jason Glowczewski, PharmD, MBA, FASHP, Chief Operating Officer of UH Conneaut, Geneva and Geauga medical centers. "With the strain of the pandemic, partnering together with our community and finding creative ways to care for our patients close to home has been essential."
In Ashtabula County, cancer is the second leading cause of death, and many patients who were previously diagnosed had to travel out of the county for treatment. The team embarked on the ambitious journey of expanding the UH Seidman Cancer Center at both hospitals in Ashtabula - UH Conneaut and Geneva medical centers. The goal was to ensure patients could receive advanced, specialized care for their cancer diagnosis nearby without the stress of traveling.
"The cancer center expansion project was just super exciting for us," Ms. Kendall emphasized. "It gave us the opportunity to have an impact on generations to come. This expansion is going to impact families forever."
The Kendall Foundation is currently working with UH in other important ways. Their current campaign--called "Babies It's Cold Outside!" - will help UH Rainbow Babies & Children's Hospital meet their donation wish list. The foundation is collecting hats, gloves, boots, books, coloring items and hygiene products to gift to patients. Monetary donations are also being collected and will be matched by the foundation.
With the strain of the pandemic, cash is critical for completing the cancer center expansion project as quickly as possible. The total cost to expand cancer services at UH Conneaut Medical Center is more than $600,000. The hospital is now $25,000 away from reaching its Phase I goal of $455,000. The team is hopeful that the remaining funding for Phase II will be raised through a celebration of the hospital's 100th Anniversary in 2022.
For more details, and to make a gift to the project, please contact Don Luscher at Donald.Luscher@UHhospitals.org, 330-687-8285 or make a gift online.