2022 Distinguished Advisor Awarded to Jennifer A. Savage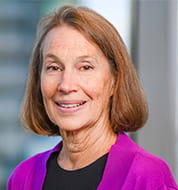 Jennifer A. Savage

The annual meeting of the University Hospitals Diamond Advisory Group was held on September 21, 2022 at the Shoreby Club in Bratenahl.
The group of Northeast Ohio financial advisors serve as important ambassadors on University Hospitals' behalf to our donor community, sharing knowledge of UH programs and services with their clients.
A highlight of the event each year is the announcement of the winner of the Distinguished Advisor Award, recognizing the community leadership and personal commitment of one advisor to promoting UH's vision and mission. This year's honor went to Jennifer A. Savage, partner at Schneider Smeltz Spieth Bell and a member of the firm's executive committee.
A Commitment to Excellence
With more than 30 years of experience in sophisticated estate planning, Jennifer is known for her ability to communicate complex matters in plain terms when working collaboratively with multigenerational families.
She is a past president of the estate planning council of Cleveland and a fellow in the American College of Trust and Estate Counsel, and has received many honors during her career, including being named a top rated lawyer by Martindale-Hubbell and recognition in The Best Lawyers in America, including "lawyer of the year" in Cleveland three times.
Jennifer shared that she had several personal experiences at University Hospitals — with her son, mother and father all being cared for at UH in the past — and shared her gratitude for UH caregivers in her remarks. "I remain absolutely in awe of the nurses and staff at UH," said Jennifer. "No matter how dire the situation, and how often they see dire situations, they take care of patient and family astonishingly well."
2022 Annual Meeting
This year's chair, Janet Havener, welcomed attendees, and Dan Simon, MD, President, Academic & External Affairs and Chief Scientific Officer for UH and the Ernie and Patti Novak Distinguished Chair in Health Care Leadership thanked the group for their valuable service and shared an update on UH's accomplishments over the past year.
"The overall goal of financial advisors is not dissimilar to the goal of those of us in health care: we are all driven to make a real difference in the lives of the people we serve," said Dr. Simon. "Together, we are making our community better, stronger and healthier, and we are most grateful for your partnership."
Lee Ponsky, MD, Chair, UH Urology Institute; Executive Director, UH Cutler Center for Men; Leo and Charlotte Goldberg Chair of Advanced Surgical Therapies; and Master Clinician in Urologic Oncology, provided an update on the advances in men's health taking place at the UH Cutler Center for Men.
Past UH Distinguished Advisor Awardees
Ralph P. Higgins
Rick Buoncore
James Goldsmith
Janet W. Havener
William Karnatz Sr.
Bernard Karr
Eugene Kratus
Jon Pinney
Maria Quinn
Roger Shumaker
Douglas Smorag
Catherine Veres
Jeffry Weiler
Marcia Wexberg