Maltby's $1.125 Million Gift Promotes Breast Health and Cancer Care at UH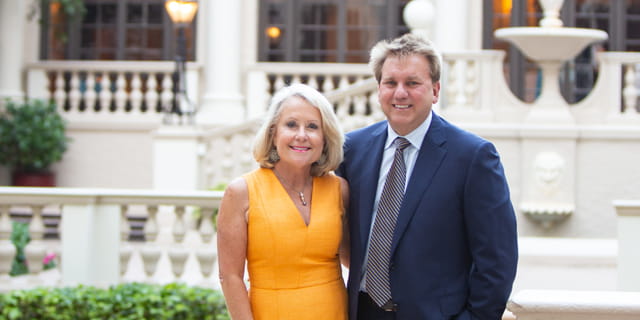 Like so many families, Don and Nancy Maltby have been greatly impacted by cancer. Both lost their mothers to the disease and Nancy is a breast cancer survivor.
"We were very impressed with UH Seidman Cancer Center," said Nancy, a longtime interior designer, who received her treatment there six years ago. "The space is patient friendly and the staff was always caring, supportive and attentive during an otherwise anxious time."
"After meeting with her doctors, I knew Nancy was in the best place possible to fight this disease," added Don, retired President and COO of a leading transportation management company.
Inspired by the outstanding care Nancy received, the Maltbys decided to get more involved with UH. Last year, they made the lead gift to endow a new master clinician in breast health, supporting excellence in clinical care and research.
"After Nancy's personal cancer experience, she and Don wanted to make a difference for others," said Paula Silverman, MD, Director, Breast Cancer Program, UH Seidman Cancer Center. "The combination of research, personalized care and a positive environment hit home for them. Their generosity will leave a legacy for generations to come and I am truly grateful for their meaningful support of the work we do every day and how we aspire to change breast cancer care."
The couple also made a commitment to UH St. John Medical Center in Westlake, establishing the Maltby Breast Health Center. The new breast health center will provide high quality and compassionate breast cancer care while also focusing on breast health and cancer prevention, research and clinical trials.
The Maltby Breast Health Center holds added meaning because UH St. John sits on property that was once Deeks Apple Orchard, owned by Nancy's grandparents and family.
"We are very impressed with UH's commitment to providing state-of-the-art health care to the community," agreed the Maltbys. "It is meaningful to us to be part of that and we are humbled knowing our gift will make a difference in others' lives."
Members of both UH's Diamond Legacy and Samual Mather societies, Don and Nancy now split their time between Avon Lake and North Palm Beach, Florida.
"We have been fortunate and if we can positively impact the lives of others, we want to do it," said Don.