Sponsor Spotlight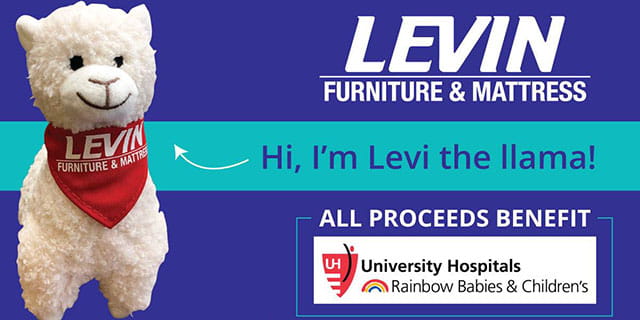 Founded in 1920 as a single store in Mt. Pleasant, Pennsylvania, Levin Furniture & Mattress has grown within the southwest Pennsylvania and northeast Ohio markets with a total of 13 furniture and nine mattress store locations. Levin recently celebrated its 100th anniversary in 2020; as part of their commitment to the Northeast Ohio community, 2020 also marks the beginning of a partnership with UH Rainbow Babies & Children's Hospital.
Robert Levin, chairman and grandson of the Levin founder, continues the family's commitment to charitable organizations in all of their markets. Home furnishing is what they do, but their strong civic spirit really is at the core of who they are. "Giving back to the communities that support our businesses means so much to all of us at Levin's," he explains.
This year, Levin is selling their signature Levi the llama plush stuffed animal for $5 with 100% of proceeds benefiting kids treated at UH Rainbow. Levin will be presenting their donation at the 2021 Rainbow Radiothon at the end of the year.
Taking Pride in Giving Back
"For years, we have taken pride in our efforts to raise money for the communities we serve," shared Laurie Scardina, Levin's Director of Sales. "University Hospitals Rainbow Babies & Children's Hospital is an organization near and dear to the Levin Furniture family, and we are thrilled to have the opportunity to partner with UH. The work UH has done to support families in need is why we are honored to continue our relationship with this amazing organization."
UH's Community Partners is a community-based program that raises funds on behalf of UH Rainbow. Through collective efforts, partners like Levin make a huge impact on UH Rainbow's patients, families, and caregivers. Together, Levin and UH share a commitment to ensuring that kids are able to thrive.