Sponsor Spotlight
Children's Miracle Network, JOANN Partner to Support UH Rainbow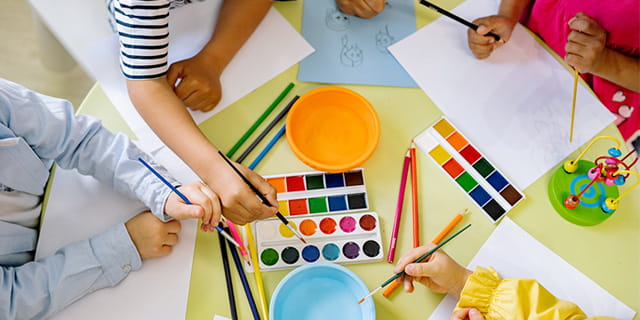 JOANN and UH Rainbow Babies & Children's Hospital have a long history of support. JOANN, which is headquartered in Northeast Ohio, is one of the nation's leading craft stores. Over the years, it has created and donated items for patients as well as served as an event sponsor.
When looking to establish a national philanthropic model with a hyper-local connection, leaders at JOANN reached out to UH Rainbow for assistance. A UH Rainbow team brought JOANN and Children's Miracle Network Hospitals® (CMN Hospitals) together to make that philanthropic dream a reality.
The JOANN and CMN Hospitals partnership will raise funds for member children's hospitals across the nation, including UH Rainbow. Customers can donate to UH Rainbow by dropping their change in a coin box at any of JOANN's Cleveland-area locations. The partnership will run through the end of October. One hundred percent of every donation will support programs and services not funded by health insurance.
"JOANN has been a household name in Northeast Ohio for decades," said Patti DePompei, RN, MSN, President, UH Rainbow Babies & Children's and UH MacDonald Women's hospitals and Rainbow Babies & Children's Foundation Chair in Leadership and Innovation. "Whenever we've needed assistance, they've always been willing to lend a hand. This partnership will not only benefit the patients at UH Rainbow, but children throughout the country."
"We are thrilled to join Children's Miracle Network Hospitals as a partner for 2022," said Chris DiTullio, Chief Customer Officer at JOANN. "We know it's important to our customers and Team Members that we give back locally, and by partnering with CMN Hospitals, we can do just that. Each store has been mapped to a local member hospital, so customers and Team Members have a personal connection that makes each donation or engagement opportunity even more meaningful."
"JOANN has made philanthropy part of their identity, where team members and customers alike are inspired to give back to their community and we are excited to welcome them as a new partner to the CMN Hospitals family," said Teri Nestel, President and CEO of Children's Miracle Network Hospitals. "We truly believe that when all of us unite on our mission to improve health and wellbeing for all children, we can all change kids' health and change the future."
UH Rainbow and JOANN have a special relationship that goes beyond philanthropic support. One of their founders, Hilda Reich, and longtime leader of the organization, Betty Rosskamm, are the great-grandmother and grandmother respectively of two UH Rainbow caregivers. Betty is also the mother-in-law of former UH Cleveland Medical Center President Fred Rothstein.
Thanks to the help of national CMN Hospitals partners like JOANN, giving is made easy. To support the work of UH Rainbow, visit your local JOANN store.